Make canned whole peeled tomatoes you need to soften the tomatoes in the hot water by the tomato blanching machine, then peeling the tomato skin.At the end to filling them into the can.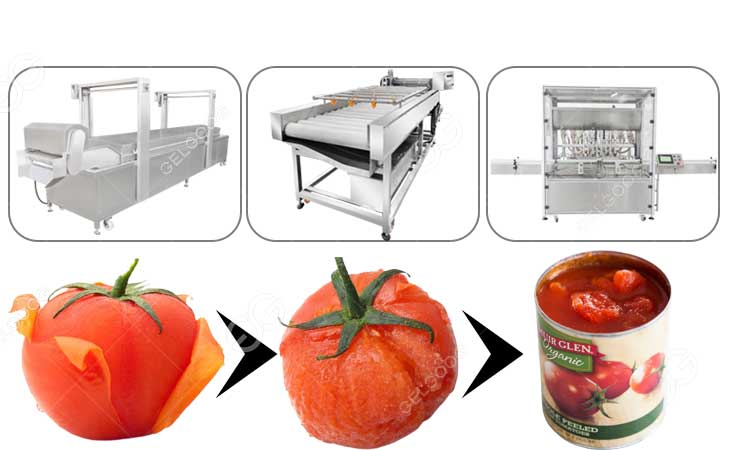 Tomato fruit is rich in nutrients and good quality. In addition to containing a variety of vitamins, it also contains high organic acids. Due to the effect of organic acids, the vitamin C and other nutrients in the whole peeled tomatoes can be better preserved.
Making the canned whole peeled tomatoes mainly need tomato washing ,banching ,peeling and filling machine.
Tomato washing machine
The tomato washing machine with drying system,it is special for the tomato washing. The tomatoes are transported by hydraulic conveying method which is hygienic and reliable, which can not only play a role in cleaning but also save electric energy.After washing it can drying the tomato surface water with room temperture have no damage to the tomato skin.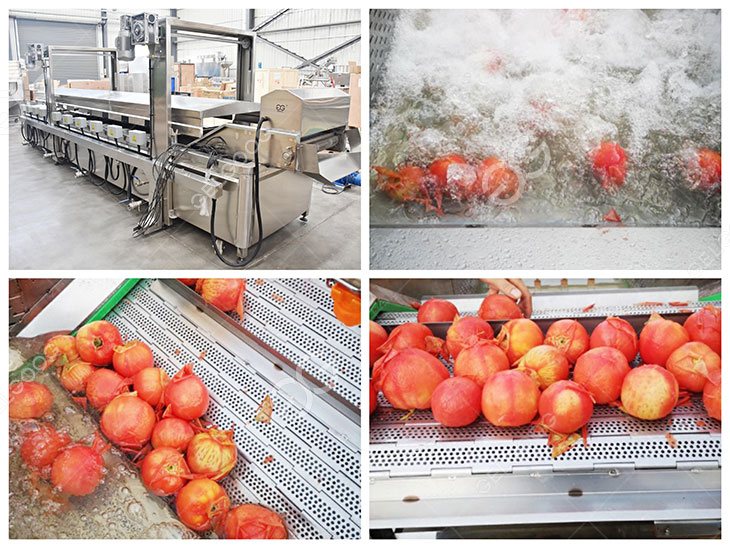 Tomato blanching machine
The tomato blanching machine is an essential equipment for tomato peeling. It softens the fresh tomatoes through hot water pre-cooking, and can retain the original color of the tomato, and is transported to the next process through a mesh belt for processing.
Tomato peeling machine
After the tomatoes are blanched, they are transported by the mesh belt and dropped into the flat roller brush peeling machine. Driven by the motor, the hair roller rolls in a relatively reverse direction, and directly touches the tomato softened by blanching to produce friction to achieve the peeling effect.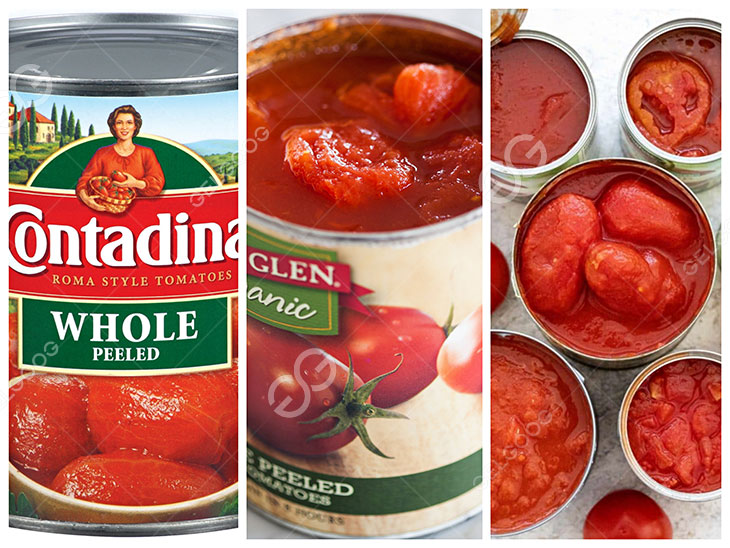 Most bacteria, yeasts and molds are difficult to remove from the food surface. Washing fresh food will only slightly reduce their number. Peeled root crops, underground stem crops and tomatoes have greatly reduced their numbers.By removing the tomato skin that contains a lot of bacteria to reduce the bacterial load, we can get a complete, safe and hygienic peeled tomato and the tomato vetamin C will not lose.