Description
The automatic carrot juice processing line for vegetable processing includes: cleaning system, peeling system, acid adjusting system, preheating system, beating and refining system, concentration evaporation system, sterilization and aseptic filling system.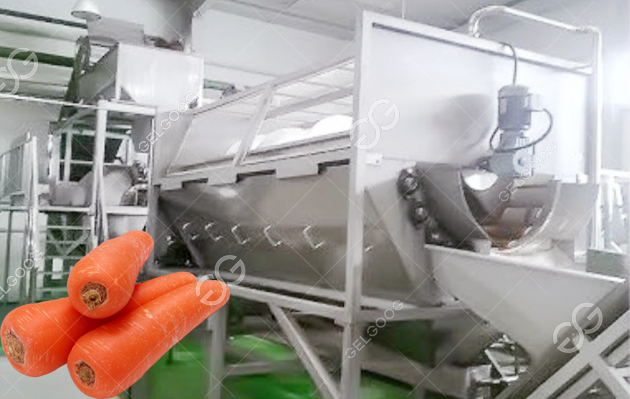 Process Flow:
Carrot → soaking → washing → sorting → crushing → juice extraction → (pomace) enzymatic hydrolysis → juice extraction → filtration → centrifugal separation → enzyme inactivation → bus sterilization → cooling → aseptic storage → aseptic filling → quantitative 200 kg finished product Bacteria packaging → label storage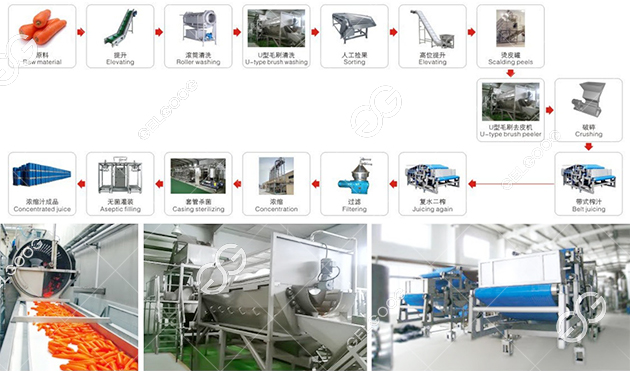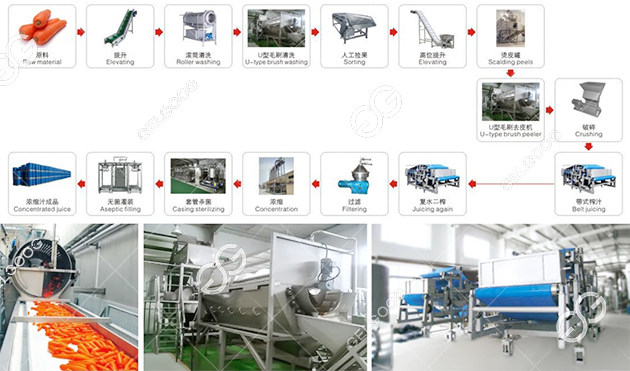 Key Points of Carrot Juice Process Control:
1. Cleaning: First soak the carrots in the soaking tank, and then use a roller cleaning machine with a brush for intensive cleaning.
2. Picking Pick and remove diseased, mildew and weeds on the picking belt, cut off bad heads and green heads, and remove iron debris with magnetic separation equipment.
3. Crushing Crush the washed carrots into 2-3mm granules, add 0.5% vitamin C, and then send to enzymatic hydrolysis.
4. Enzymatic hydrolysis Add a concentration of 0.03% pectinase, an appropriate amount of hemicellulase, 0.5 citric acid, maintain the pH value at about 4.5, the treatment temperature is 45-50 degrees, and the time is 40 minutes.
5. Pressing Press treatment at a temperature of about 45 degrees.
6.Using the vibrating screen to filting the juice,then process thi juice by a centrifuge.
7. Sterilization adopts new pasteurization, temperature is 93 degrees, time is 30-60 seconds.
8. Cooling Cool the carrot juice and send it to the aseptic storage tank.
9. Aseptic packaging carrot juice is poured into a 200-liter aseptic aluminum foil bag from an aseptic storage tank through an aseptic filling head, weighs 200 kg, and is pulled out for labeling and storage.
The Carrot Juice Processing Line Advantage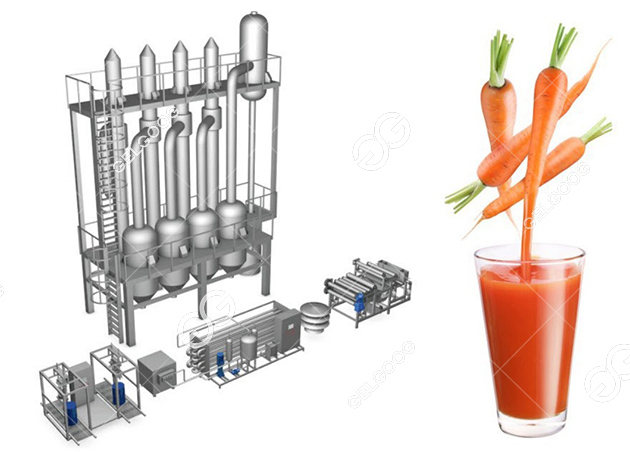 The automatic carrot juice processing line for vegetable processing has an advanced design concept and a high degree of automation; the main equipment is made of high-quality stainless steel, which fully meets the sanitary requirements of food processing.
The carrot juice processing plant has the characteristics of scientific design, reasonable layout, reliable operation, convenient operation, wide processing versatility, good processing effect, low investment and energy saving. It is an ideal, advanced and economical production line for carrot juice processing.
We also have other fruit and vegetable juice processing line for your reference!!