Description
Automatic sugar cane juice Rotary vibrating screen for sale  is a high-precision subdivision sieve machine, with low noise, high efficiency, fast screen replacement, fully enclosed multi-layer structure, etc. It is very suitable for screening and filtering sugarcane juice.
Sugarcane juice is a kind of delicious juice that people like to drink. It uses fruit sugarcane as the main raw material. The liquid obtained after squeezing and purification retains the rich nutrients in the sugarcane, and the taste is particularly sweet.
Because sugarcane contains more fiber, there are a lot of fine fibers in the sugarcane juice that has been squeezed, and drinking directly will greatly affect the taste. Therefore, it is necessary to filter through a rotary vibrating screen first.
Sugarcane Juice Rotary Vibrating Screen Working Instructions
The juice rotary vibrating screen for sale uses a vertical vibrating motor as the excitation source. The upper and lower ends of the vibrating motor are equipped with eccentric weights to convert the rotating motion of the vibrating motor into a horizontal, vertical, and inclined three-dimensional motion, and then transfer this motion to Screen surface. Adjusting the phase angle of the upper and lower ends can change the movement trajectory of the sugarcane juice on the sieve surface.
Juice Rotary Vibrating Screen Features
● It can screen any particle, powder, mucus within a certain range.
● The minimum sieving is 1000 mesh or 0.002mm, and the minimum filtering is 2 microns.
● Graded screening, it can screen one to five layers of screens , and can carry out two to six levels of sorting or filtering at the same time.
● High efficiency, exquisite and durable design, easy to change the screen, simple to operate and easy to clean.
● The rotary vibrating screen automatically discharges impurities and coarse materials, allowing continuous operation.
● Grid frame design, the screen can be used for a long time, and the screen can be changed quickly, only 3-5 minutes.
● Small size, space saving and easy to move.
Sugarcane Juice Rotary Vibrating Screen Applicable Purpose
1. Classification: One set of three-dimensional vibrating sieving filter can continuously and accurately separate and screen sugarcane juice. It can be separated and screened out five groups of products with different particle diameters at one time and there will be no inconsistent particle size. , It is mostly suitable for the screening of dry materials.
2. Removal of impurities: This equipment can quickly separate a small part of large particles in sugarcane juice.
3. Liquid removal: This equipment is suitable for  single layer and multiple layers. It can handle the mixture of solid and liquid very effectively, and realize the solid-liquid separation quickly.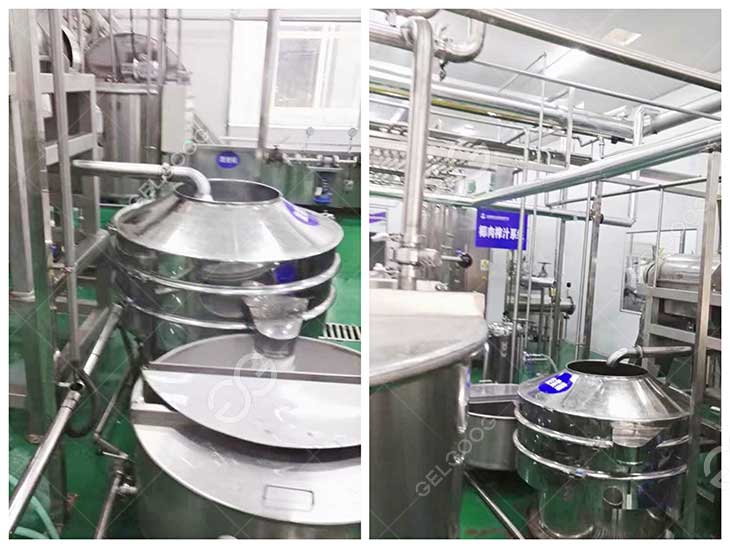 The juice rotary vibrating screen for sale is small in size, does not occupy space, and is convenient to move. The discharge port is set to 360 degrees ,you can adjusted it at will. It is fully enclosed and does not leak, and the mesh is not clogged. It has 3 layers of screens, which are flexible and can be single layer and multiple layers.
The use of the new grid structure, the screen has a long service life, the machine has no dead ends, you can easily disinfect and clean it, and the screening efficiency is high to meet the your request.It is often used in fruit juice production lines and is also used with sugarcane juice extractor machine.
If you have the fruit juice processing request or any other related filtering business ,feel free to contact us!!