Description
The tomato paste manufacturing plant is set for canned tomato ketchup processing.The production line mainly include fresh tomato lifting,cleaning,crushing,pulping,concentrating,sterilization ect.The flowchart image are as follows: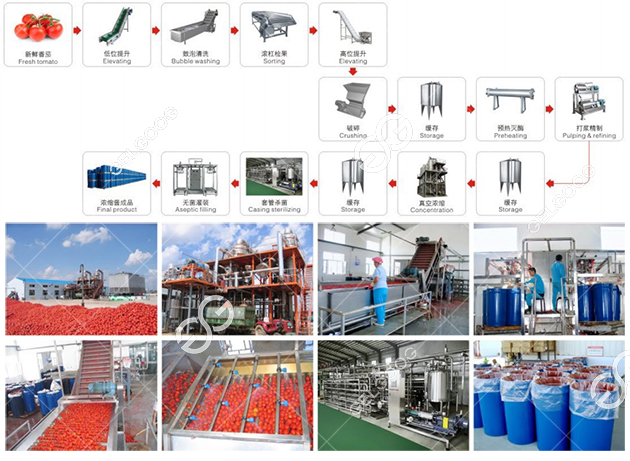 How to Produce Tomato Paste
We need to clean the fresh tomatoes just harvested from the farm, reduce them, remove the bad and raw fruits, send them to the crusher for crushing, and then preheat the crushed tomato chunks. According to  the requirements of the finished ketchup, select the heating temperature and cooling time; then pulping, the tomato pulp has a relatively high water content, so we need to vacuum concentrate, sterilize, and finally pack our processed finished product into canned tomato ketchup .
Tomato Suace Making Machine parameters:
Raw material: fresh tomatoes
End product: tomato sauce (concentration is 28-30%, 30-32%, 36-38%)
Processing capacity: 300KG-3T fresh tomato/hour
Jam ingredients: pure fruit puree, vitamins, sugar and other flavor additives.
Sterilization method: pasteurization, UHT high temperature sterilization, ultra high temperature sterilization. (Adjustable according to requirements)
Terminal packaging: aseptic vat, bag-in-box aseptic pouch, tinplate small package, small bag packaging.
Control method: manual control or automatic control.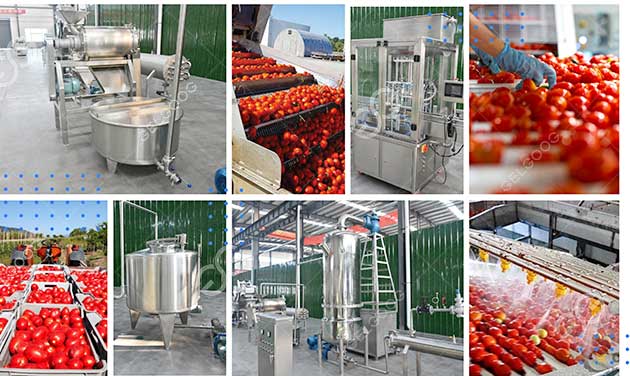 Tomato-sauce-production-line
Tomato Paste Production Line Machine Main features:
The complete system has reasonable and beautiful design, stable operation, energy saving, and low steam consumption.
The evaporator adopts a forced circulation type, which makes the tomato paste with high viscosity easy to flow and evaporate, and the concentration time is short.
The evaporation temperature of the evaporator is low, the heat is fully utilized, the tomato sauce is heated gently, the heat is uniform in the tube, and the heat transfer coefficient is high.
The condenser with special structure can operate normally under the condition of cooling water temperature of 30℃ or higher.
Continuous feeding and discharging, material liquid level and required concentration can be controlled automatically.
We are professional in tomato processing plant, we can not only customize the
tomato paste manufacturing plant according to your request,but also professional in all the related tomato process fields,such as tomato juice making machine,tomato powder making machine,candied tomato  making machine ect.So any request of the tomato processing feel free to inquiry us online!!