Description
The pineapple juice extraction machine can automatically extract and separate golden pineapple into pineapple juice. The quality of this golden pineapple fruit is sweet and delicious; the thorns are uniform and the golden color looks quite striking. Especially in Ghana, Vietnam, Singapore, Malaysia, etc., which are rich in golden pineapples, it can handle at least 500kg of golden pineapples per hour, which can prevent pineapple prices from falling, low profits, and many pineapple growing families suffer losses.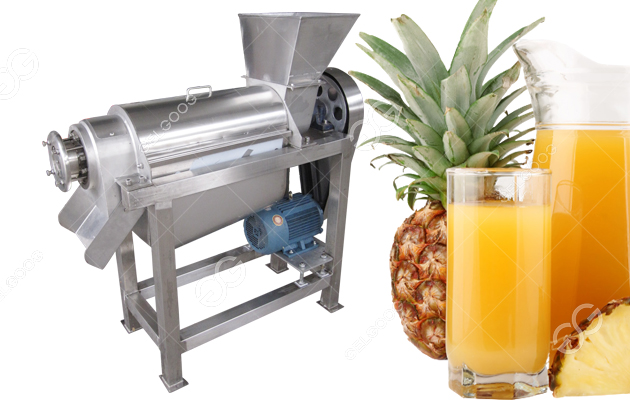 Application: pineapple, orange flesh, grapes, peach, mulberry, bayberry, peach (pitted), etc.They not only can be made into jam juice, separating the pit, seed and thin skin, but also can cut the green vegetable (cut) tomato , peppers, celery (cut), etc. to achieve vegetable pulp juice and separate vegetable ribs.
The commercial pineapple juicer machine is an ideal machine for making jam, fruit juice, and vegetable juice, and is an important equipment for food processing enterprises. This model can be used alone or with production line operations.
Here is our pineapple juice extractory machine working process in our factory for your reference!!
Pineapple Juice Extraction Machine Working principle
The pineapple juice machine bottom diameter of the screw gradually increases along the direction of the slag outlet and the pitch of the screw gradually decreases. When the pineapple is pushed by the screw, the volume of the screw cavity is reduced, forming a squeeze of the golden pineapple.
Automatic Pineapple Juice Machine Details:
Wide feed inlet: stainless steel material, safe and smooth, and smooth feeding.
Smooth slag outlet: stainless steel material, slag outlet is smooth, and the passage is not blocked.
Motor protection cover: stainless steel cover for motor and pulley, safe to use, waterproof and moisture-proof, and extend the service life.
Juice pipe: food-grade juice pipe, extended material receiving, detachable and connectable, adjustable direction, safe and beautiful, time-saving and efficient.
Screw squeeze rod: The long screw pushes the squeeze rod to increase the pineapple  juice yield and large output.
Fine mesh screen: 0.6mm filter mesh aperture, butterfly screw for easy removal and washing.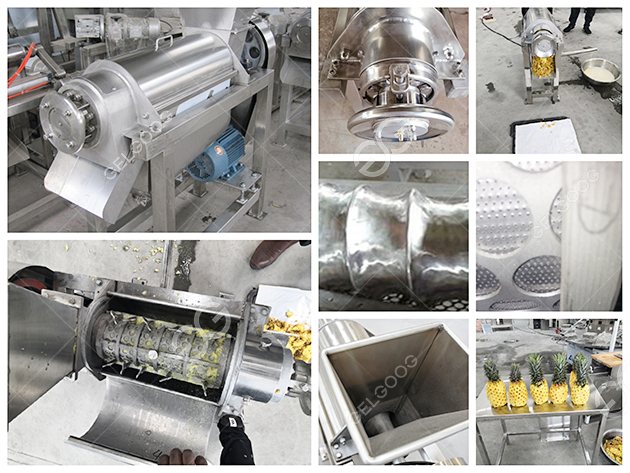 Pineapple Juice Extractor Machine Features
1. Advanced design, compact structure, beautiful appearance.
2. The pineapple juice machine contains two parts, a crusher and a screw juicer, which can automatically complete the crushing, juice extraction and slag discharge processes.
3. Adopting conical screw, large capacity and high pineapple juice yield.
4. High efficiency, energy saving, low noise and no pollution.
5. All parts in contact with materials are made of stainless steel.
Golden Pineapple Juice Machine Technical Parameters:
| | |
| --- | --- |
| Model | GGJE-5 |
| power | 0.55KW |
| Capacity | 0.5T/h |
| Screw diameter | 135mm |
| size | 1000*320*980mm |
After making the pineapple juice,you may need to consider how to increase the pineapple juice, and enable them to be able to maintain the quality immediately, we also have a small pasteurization filling machine for your reference!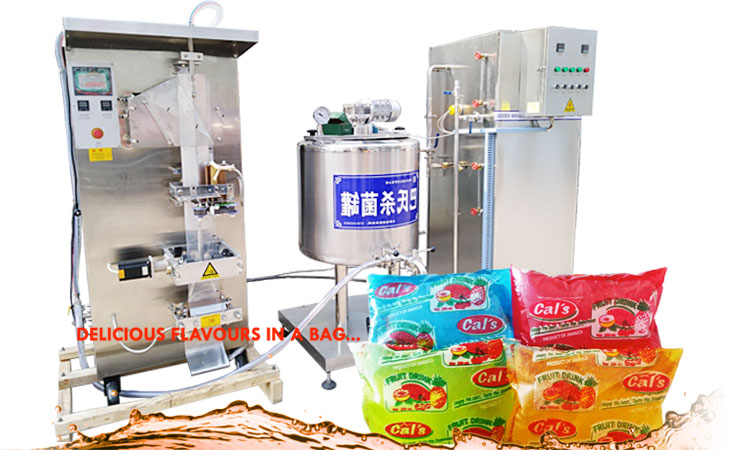 If you want to make the pineapple juice machine in a large scale ,we also have another type pineapple juice making machine-Poly fruit juice extractor !And we also support the pineapple juice production line according to your specific request! Any questions about the pineapple processing ,welcome to contact us freely!