Description
The Poly Fruit Juice Extractor realizes the two requirements of peeling and juicing tropical fruits at the same time. It is mainly suitable for tropical fruits such as pineapple, passion fruit, papaya, melon, guava and banana.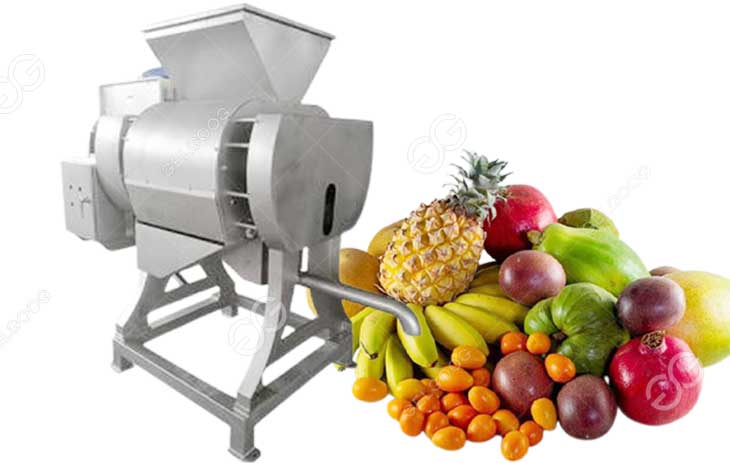 Poly Fruit Juice Extractor characteristics:
The equipment has wide versatility and is suitable for squeezing and extracting a variety of tropical fruits;
For different fruits, the juice yield can be controlled by adjusting the distance between the screen and the drum;
It integrates juicing and peeling, no grading is required, and the efficiency of juicing is high;
The whole machine is made of 304 stainless steel material, which meets food hygiene standards;
Sturdy frame, beautiful appearance, easy to operate
Technical Parameters:
| | | | |
| --- | --- | --- | --- |
| Model | Capacity t/h | Power(KW) | Dimension(MM) |
| GG-QB-600 | 1-3 | 3 | 1250*1200*1500 |
| GG-QB-800 | 3-5 | 5.5 | 1550*1400*1700 |
| GG-QB-1000 | 5-7 | 7.5 | 1850*1600*2100 |
Tropical Fruit Juice Extractor Machine working principle:
When the washed tropical fruits are fed into the fruit juice extractor through the hopper, two rollers transfer them to the knife. The knife cuts them in half, and the spatula separates the peel. The sieve plate extracts about 36% of the juice, which is then transported to the fruit pulper for further extraction. After extraction, the peel is discharged through the outlet.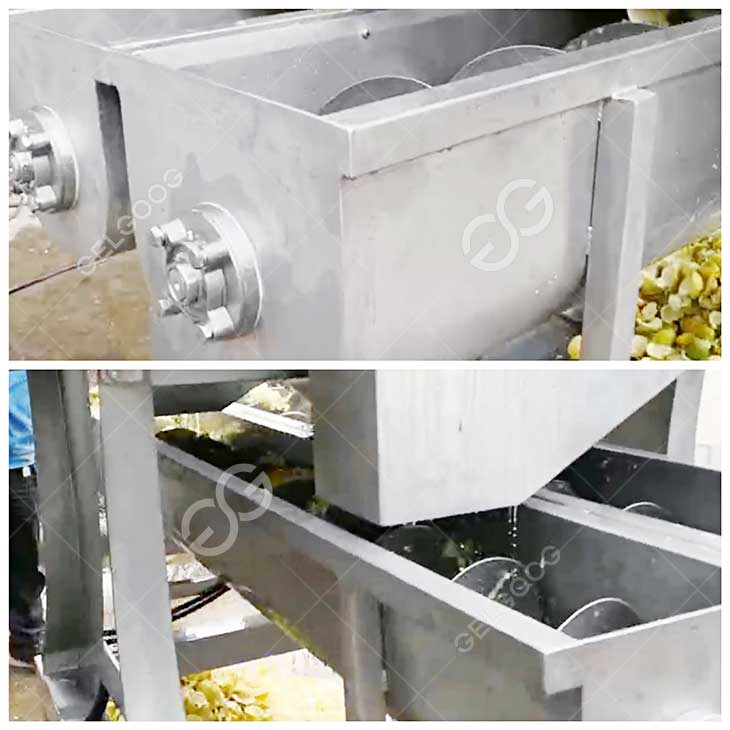 1. Send citrus, papaya, passion fruit and other tropical fruits into the feeding hopper through the elevator without grading the size in advance.
2. A horizontal knife fixed between two counter-rolling cylinders cuts the fruit in half. Then, half of the fruit is dragged along the squeeze channel by the rolling cylinder: the juice flows out here and is filtered through a perforated stainless steel plate.
3. According to the shape of different tropical fruits, different channel contours are designed, and the extrusion pressure on the fruit can be easily adjusted based on the type of fruit, the maturity and the thickness of the peel, so as to obtain the maximum juice output without affecting the quality.
4. During the extrusion process, the peel is discharged from two suitable stainless steel chutes and transported to the peel bin.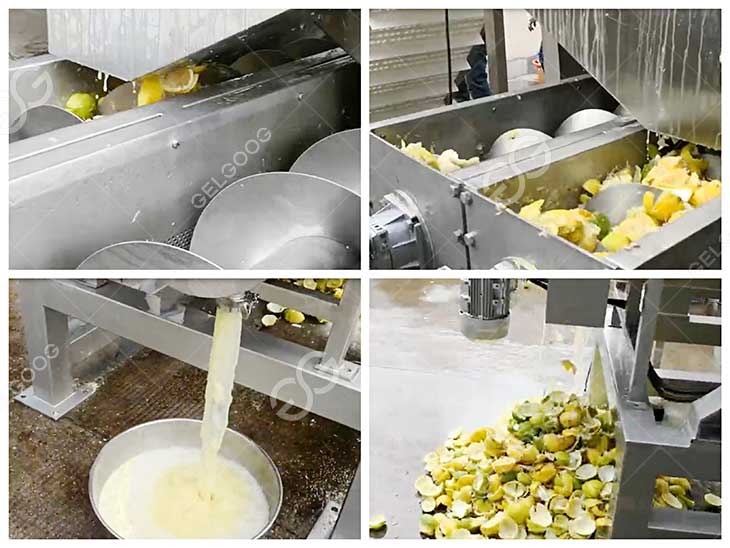 5.Citrus and pineapple peels can be brought to the Polypress PL 1 screw press to retrieve the remaining juice.
Citrus juices mainly include orange juice, grapefruit juice, grapefruit juice, lemon juice and a small amount of mixed orange juice. Citrus fruit juice is a comprehensive product among fruit juice products. It is popular among people because of its good flavor and rich nutrition. Citrus juices such as grapefruit are acidic juices. Yeasts, molds and some spoilage bacteria can cause their spoilage.In order to maintain the stability of citrus juices, sterilization and enzymatic treatment must be carried out.