Description
We use professional chili pepper hot sauce manufacturing equipment to process the picked fresh red peppers or green peppers, to obtain pepper sauce condiments rich in vitamins, sodium, calcium, and carbohydrates. It is very popular as a cooking or food ingredient in East Asia, South Asia and Southeast Asia such as Philippines,Indonesia ect . The market prospect is very broad, and it is your best choice for your hot sauce business.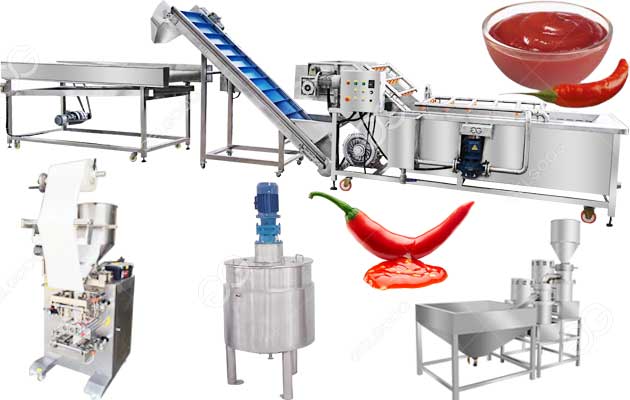 Chili Sauce Production Line Working Flowchart
Chili sauce production equipment includes hoist, chili cleaning machine, sorting machine, chili sauce grinder, preheater, (de-nucleating machine) beater, evaporator, sterilizer, sauce filling machine (we provide two kinds of sachets Filling and bottle filling) etc.
After picking fresh red peppers or green peppers, use a pepper cutting machine to remove the stems, and then upload the peppers to a blower cleaning machine to remove sand or foreign objects, and then conduct inspections to sort out the rotten peppers and remove the remaining stems by workers .Then the clean chili  is sent to a chopper to crush the chili into puree, then the seeds are removed by a beater and further crushed into puree.
After that, the chili sauce will be mixed and stirred with other ingredients, then homogenized, degassed, and then poured into a bottle or sachet.
Hot Sauce Manufacturing Equipment Paremeter
Parameter

Equipment

Chili Washing Machine
Chili Sauce Making Machine
Airtight mixing and cooling tank
1000L sterilization Unit
Chili Sauce Packing Machine
Model
GGXQ5000
GG-180
GG-1000
GG-60C
Capacity
1T/h for tomato
800-1000Kg/h
1000L
1T per hour
Power/Voltage
5.5/1.5/2.2 Kw
18.5Kw
3kw/1.5kw
20Kw/380v
1KW/220V/380V
Weight
900 Kg
340Kg
Dimensions
5100*1400*1500 mm
830*490*1100mm
1600*1600*2200 (For one tank)
625*750*1550m
Fineness
100-200
Packing speed
25-60 bag / min
Chili Sauce Production Line Key Machine
Chili hot pepper washing and picking machine
This chili washing machine is made of SUS304 material, water is used as the medium, and the air bubbles are formed by the strong flow turbine fan to roll and clean the chili pepper flexibly.
While cleaning, spray pipes and nozzles are added to the upper part of the mesh belt, and the high-pressure water pump is used for circulating spraying, which effectively suppresses the pepper floating and material cleaning.
The chili hot pepper inspect conveyor is used to pick out the low-quality peppers, it is belt mesh conveyor and can meet 5-6 workers operate at the same time.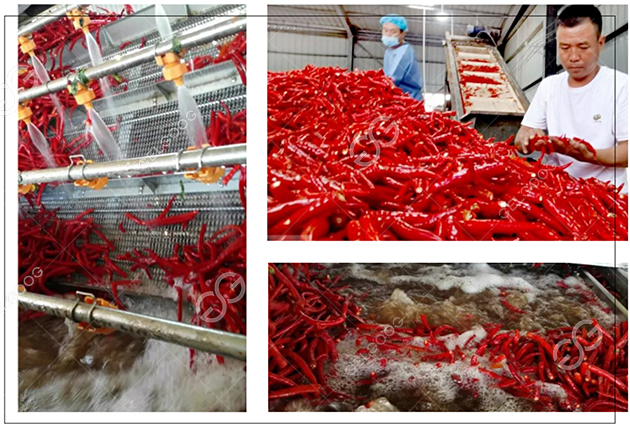 Chili Stem Cutting Machine
This chili stem cutting machine is mainly used for the removal of dry and wet chili pepper handles. The equipment has high cutting rate, low pepper loss and high eficacy. It can adapt to different varieties and chili hot pepper types.
It is an important equipment for the processing of bulk chili hot peppers, which can replace a large number of workers and greatly improve work eficiency. It not only greatly increases the output, but also removes the bends of the peppers, which greatly solves the difcult handling of the chili hot peppers in the agricultural market today.
Chili Sauce Grinding Machine
Chili sauce grinding machine is also called colloid mill. It uses the centrifugal force generated by the high-speed rotation of the stator and rotor to crush, emulsify, and homogenize chili into delicious hot chili sauce.
The chili sauce grinder can retain the original fruity aroma and nutrients of the chili, and this hot sauce is 100% natural and does not contain any additive.
Chili Sauce Cooking Pot
This product is a tilting lower stirring wok, which solves the problems of difficult discharge and difficult cleaning of upper stirring, and is in a position in the domestic industry.
The bottom and the bottom of the equipment are divided into three-layer structure, with heat preservation, circulating oil circuit, fast heating, and energy saving. Thereby increasing the output.
The bottom scraping mixing system completely solves the problem of not destroying the nutritional content of high-viscosity materials and reaches the green environmental protection standard. It is an ideal choice for food filling companies.
The use process is fully automated, the automatic arm raising system, automatic discharging system, and circuit control are used, which is more convenient to use. The pot body can be tilted at any angle, reducing labor and improving production efficiency.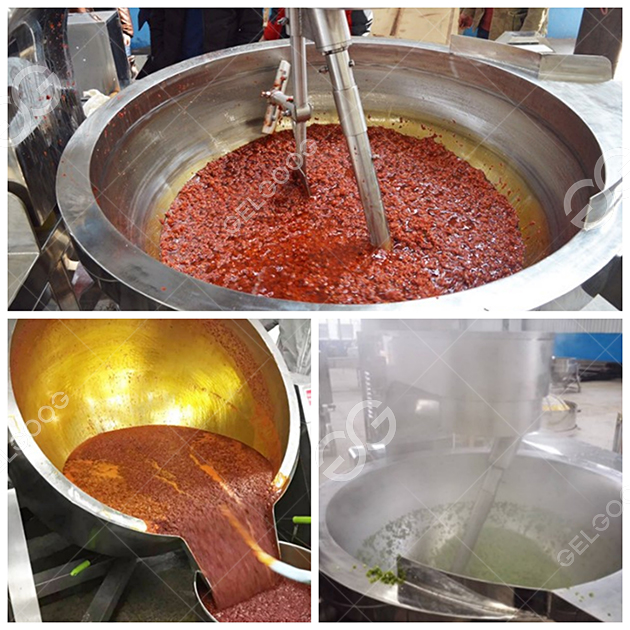 Chili sauce filling machine
The chili sauce filling machine adopts cursor positioning, stable performance, convenient adjustment, and small error range.
▼Large-capacity hopper filling is suitable for filling high-viscosity materials. The piston + gravity is used to suck the material into the cylinder for precise filling.
▼The hopper is detachable, unload the hopper, and install the suction tube at the rotary valve to realize automatic suction and quantitative filling at the same time.
▼Suitable for all kinds of viscous materials and granular materials.
▼It adopts pure pneumatic design, reasonable structure design, safety and convenience.
▼The inside of the cylinder is sealed with oil seals, which are corrosion resistant, high temperature resistant and wear resistant, and the performance is better than 0-ring.
Chili Sauce Production Line Advantages
The whole process of the production line from raw material processing to after-boxing and warehousing is automated and streamlined, which has changed the traditional workshop processing mode;
The production line has a high degree of automation, which greatly improves labor efficiency, requires less labor, and has a large output, which prevents the loss of sauce and reduces production costs.
The production line is closed operation, eliminating secondary pollution, ensuring food safety and sanitation, and the production workshop is clean and beautiful, which meets the requirements of modern food.
The equipment of the production line is made of 304 stainless steel, which is waterproof and anti-corrosion, which can ensure food safety and prolong the service life of the equipment.