Description
Chili is a common vegetable, and its products are favored by consumers. The market for chili sauce is becoming wider and the demand continues to increase. People have higher and higher requirements for the quality of chili sauce, requiring finer chili sauce. It is more uniform, and the shelf life is longer, and the product is more stable.
Traditional process equipment has been unable to meet the requirements of the production of new chili sauce, and better and newer chili sauce production equipment came into being. The chili paste grinding machine has a huge advantage for the production of hot sauce. The fineness of the fine grinding of chili is very high, and the ground chili sauce is more delicate and tastes better! !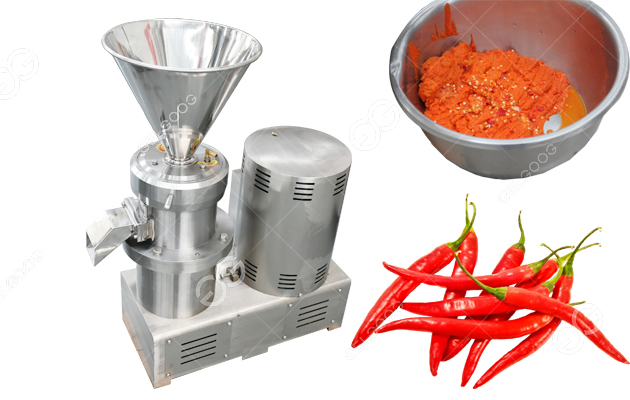 The production process of chili sauce is divided into two ends after grinding, blending, sterilization, canning, and finished products: one is washing, stalking, crushing, soaking, and grinding of dried red pepper, while the other is salted garlic, desalting, and grinding. Crush and grind.
Chili paste grinding machine structure:
Three grinding zones,-level is coarse grinding zone, second level is fine grinding zone, and third level is superfine grinding zone.
The main machine part is composed of a shell, a movable grinding plate, a static grinding plate, an adjusting mechanism, a cooling mechanism, a mechanical seal, and a motor.
The main parts are made of stainless steel, which is corrosion resistant. The user can select colloid mills of different specifications and models according to different material characteristics, production efficiency, and different purposes to achieve good results.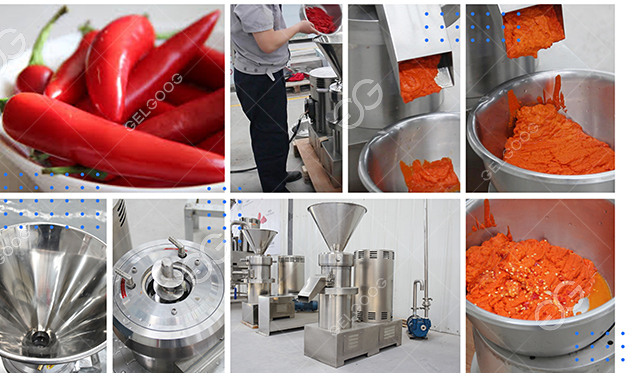 Working principle:
The basic principle of the chili paste grinding machine is that the fluid or semi-fluid material passes between the fixed tooth and the movable tooth that are relatively linked at high speed, so that the material is subjected to strong shear force, friction force and high-frequency vibration, etc., and is effectively crushed, emulsified, Homogenize and mix to obtain satisfactory finely processed products.
Here is our chili sauce grinder machine working prrcess on Yotube for your reference!!
Technical Parameters
Model
GGB-50
GGB-80
GGB-110
GGB-130
GGB-180
GGB-240
GGB-300
Output size
(mesh)
50-100
50-100
100-200
100-200
100-200
100-200
60-200
Capacity(kg/h)
70-80
70-100
300
400-600
800-1000
1500-2000
3000-4000
Power
(KW)
1.1(380V)
1.5(220V)
4(380V/220V)
7.5
15
18.5
45
75
Weight
(kg)
50
150
175
285
340
1300
1600