Description
In modern times, the production of hot sauce has long been separated from hand-made workshops.Many farmers who grow peppers inquiry us about the small scale  production line online.The production line of pepper sauce makes the production of chili sauce faster, hygienic, and up to standards. So what equipment does the chili sauce production line need?
A complete set of chili sauce processing plant requires a cleaning machine, a colloid mill, a jacketed pot, a buffer tank, a filling machine, a capping machine, a coding machine, a labeling machine, and sealing equipment, which can help companies save a lot of labor. Reduce packaging costs and ensure the stability of product quality.
Small Scale Chili Sauce Production Line Specific workflow:
1. Pick and clean fresh peppers, and remove insects or rotten peppers. The selected peppers are air-dried after the high-pressure spray bubble cleaning of the bubble cleaner to achieve the purpose of disinfection, cleaning and dehydration.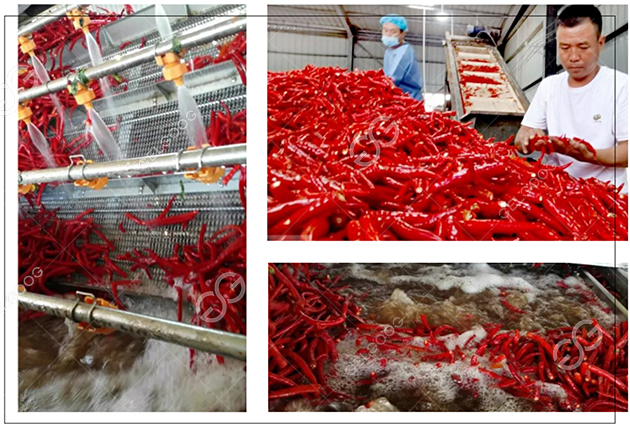 2. Grind the chili sauce, pour the cleaned and air-dried chili into a colloid mill, and grind it into a chili sauce. Put it in the buffer tank and store it temporarily.
3. For frying, put oil, green onion, ginger, garlic, and other ingredients in a jacketed kettle, fry the aroma, add the ground chili sauce, and stir fry.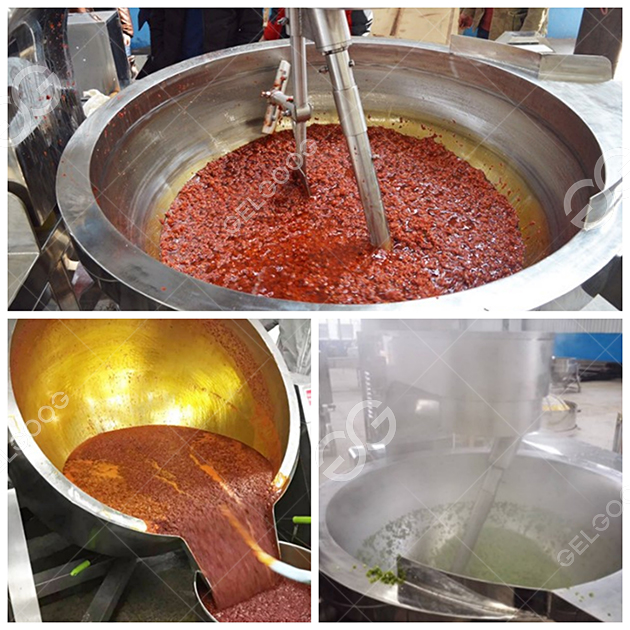 4. Cache, pour the fried chili sauce into the cache tank for temporary storage and cooling.
5. Filling, filling, capping, coding, labeling, sealing and sealing the chilled chili sauce.
Technical Parameters:
Filling speed: 5-30 bottles/min
Filling accuracy: ≤±1%
Optional models: 5-100ml 10-280ml 20-500ml 100-1000ml 500-2800ml 1000-5000ml
Number of filling heads: two, four, six, eight (customizable) This chili sauce filling production line is not fixed, customers can customize according to their actual production needs. This set of equipment is a combination of standard single machines. The price is relatively affordable, but the performance is very good.