Congratulations to the Bahraini customer for the delivery of the pomegranate peeling machine. Bahraini customers are engaged in the juice processing business locally. Before hiring workers to peel pomegranates, this method is not only inefficient, but also the cost of hiring workers is not a small expense.
This year, the client wanted to expand his business scale and learned through the website that we are a professional manufacturer of pomegranate peeling machines. Decided to cooperate with us. Through our customers, we learned that customers are engaged in cold-pressed juice business and have professional cold-pressed and sterilized filling equipment.
Our pomegranate peeling machine is also called Pomegranate seed extractor machine. It is developed on the basis of the grape destemming crusher. The counter roll of the grape destemming crusher is crushed and placed at the feed inlet position to squeeze the pomegranate against the rolls. , To make the pomegranate peel open.
Here is our pomegranate peeling machine working videos feedback from our customer for your reference!!
The broken pomegranate falls into the stalk removing device, which is the peeling device. The pomegranate skin seeds are opened by the mace, and the pomegranate skin is conveyed to the outside of the machine through the mace, and the pomegranate seeds fall through the sieve cylinder eye to the screw pump or other The conveying device sends it away.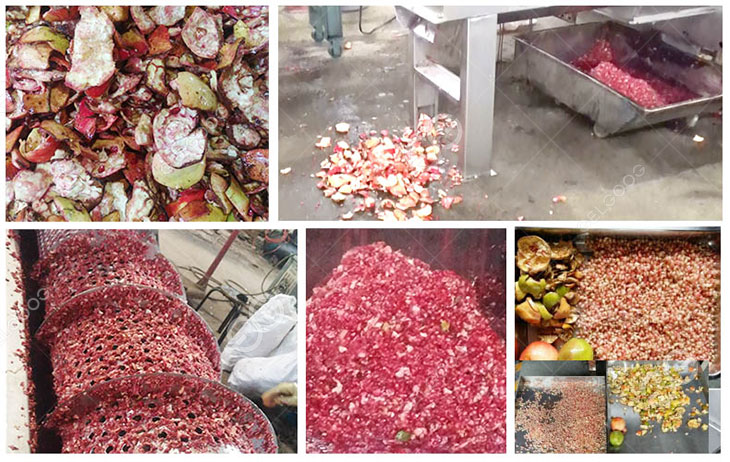 Automatic pomegranate peeling machine advantages:
○The skin damage rate is 1%;
○The separation rate of skin and seed meat is 97%;
○The speed of mixing shaft and rotating screen is adjustable;
○The gap between the upper and lower crushing rollers is adjustable, and the crushing rollers are of elastic structure;
Due to our professional and patient answers and customers' recognition of our company's strength, customers finally chose to cooperate with us after comparing many suppliers.