Description
The automatic pomegranate peeling machine for pomegranate seed extractor, it is used to separate pomegranate skins and seeds, and is an essential equipment for the pre-processing of pomegranate juice extraction.
Pomegranate Seed Extractor Features
▼Large production capacity;
▼The particle size of the material is the same;
▼Smooth operation and low noise during work;
▼Made of high-quality stainless steel materials
Here is the pomegranate juice making process for your reference!!
How To Use Pomegranate Peel?
The pomegranate enters the crushing device from the feed hopper. After the relative squeezing of the crushing roller and the sharp pressure of the blade on the roller, the pomegranate seeds and part of the juice leak out from the screen hole, and the pomegranate skin is discharged from the tail of the equipment.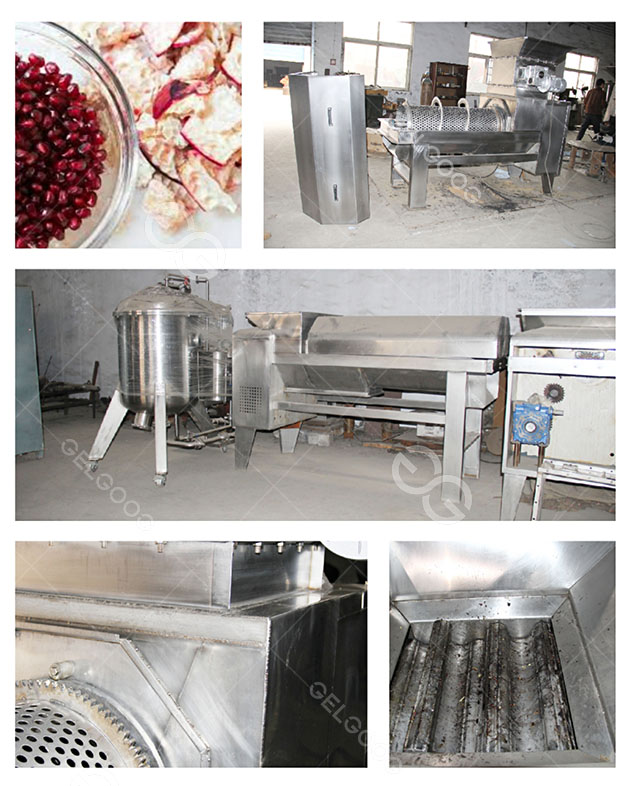 Pomegranate Deseeder Tool Application
In fruits and vegetables, such as grapes, sea buckthorn, pomegranate seeds, oranges, etc., have high sugar content. Chinese medicine residue, pulp residue and bagasse in plants contain coarse and large fibers.
In these plants, they may slip during pressing or because the fibers are coarse and cannot be discharged, a single screw press with a forced feed plate should be used.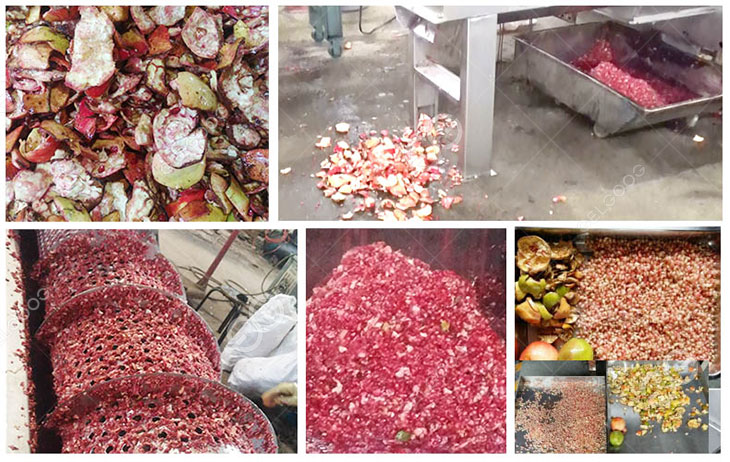 Automatic Pomegranate Peeling Machine Advantage
We need to desing the hydraulic pressure of the forced feed plate and the design of the press cavity according to the different material,if improper design will cause the drying barrel to burst.
The single screw press can control the degree of dryness and wetness,the discharge is uniform and convenient, and the output is satisfactory to the user.
It can minimize the damage of pomegranate seeds and retain more juice. It can not only retain the original juice taste of pomegranate, but also the tannin content according to the standard, not more than 4%, which is rich in high nutritional value, and avoid the bitter taste.
Pomegranate Deseeder Machine Parameter
Model
GG-1
GG-5
Capacity
1t/h
3-5t/h
 Turn sieve diameter
400mm
400mm
Mesh size
12-18mm
(we can customized Mesh size according to clients detail requirement)
12-18mm
(we can customized Mesh size according to clients detail requirement)
Power
2.2kw
4kw
Weight
750kg
950kg
Dimension
1.5*0.6*1.5m
1.8*0.8*2.3m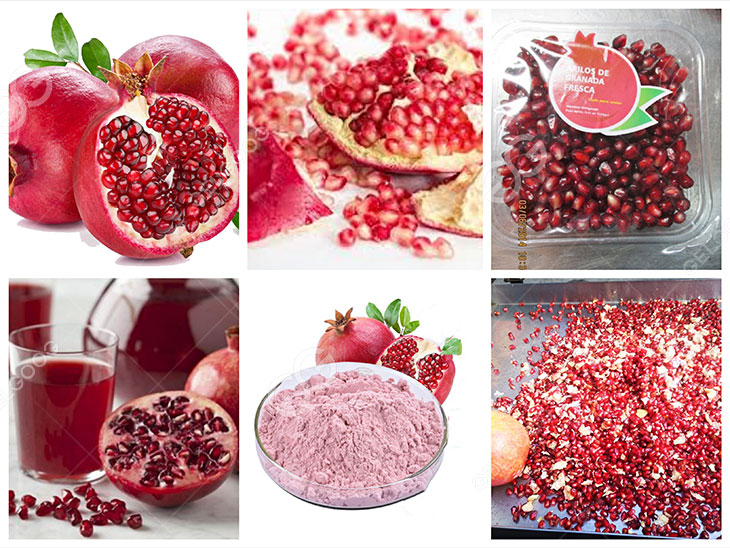 The automatic pomegranate peeling machine is used as pomegranate wine, pomegranate juice and other production equipment. It is one of the special equipment for pomegranate deep processing. If you finally want to get pomegranate juice or freeze the peeled pomegranate seeds for packaging, or get pomegranate for powder.We  are professional pomegranate processing machine manufacturer in china, we have all related equipment, please feel free to contact us for any equipment related to pomegranate processing!