Description
The automatic pomegranate juice machine is suitable for commercial pomegranate juice making,it's material is food grade stainless steel,no side effects on the human body.And it can retain the original flavor and nutrients of pomegranate to the greatest extent, and finally get delicious pomegranate juice.
Pomegranate juice is a natural juice extracted from fresh fruit pomegranate as the main raw material. It tastes sweet and has a ruddy color. After drinking, it can supplement the human body with rich nutrition and play a certain health care effect.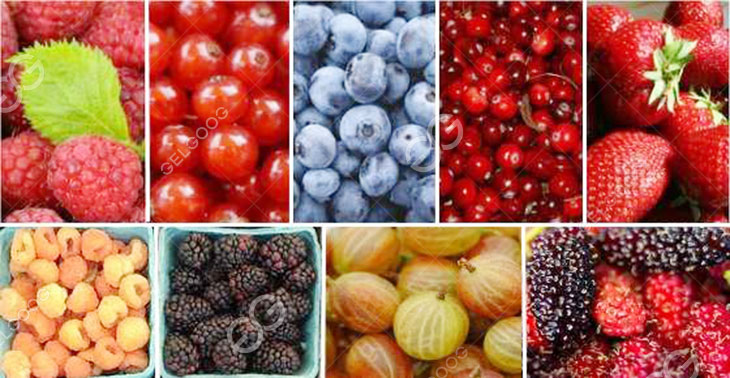 Pomegranate Extractor Juice Machine Application
Automatic pomegranate juice machine is also suitable for the separation of the core and pulp of pomegrnates seeds,tomatoes, kiwis, strawberries, apples, pears and pre-cooked softened fruits such as wolfberry and jujube.
Pomegranate Juice Extraction Machine Features
1. The juice residue can automatically separate .
2. It can application for the production line or by a single machine.
3. The material is stainless steel, in line with food hygiene.
Here is our youtube video of the pomegranaye juice working process in our factory for your reference!!
How to Make Pomegranate Juice from Pomegranate
The belt can drive the motor to rotate the scraper mounted on the spline at high speed.When the pomegranate seeds enter the machine through the feed port, the pulp tray will evenly discharge the pomegranate seeds to the scraper and the screen.
Due to the rotation of the scraper and the existence of the lead angle, the pomegranate seeds move along the cylinder to the outlet end, and the moving trajectory is spiral.
The centrifugal force will crush the pomegrnate seeds during during the movement between the scraper and the sieve cylinder.
The juice and meat to the next process through the sieve holes, and the nuclei discharge from the slag hopper to achieve automatic separation purpose.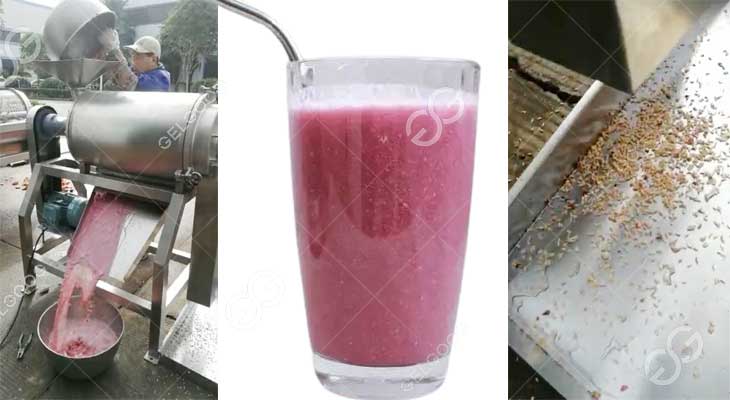 How to Make Pomegranate Juice Benefits
This is most cutomser most caring problems.As the aboves inroduced ,you can get the pomegranate juice at the end.But if this is all,of course not.If you want to make pomegrante juice benefits bigger, you can also equipment a juice filling machine(Automatic or semi automatic),it will help your pomegranate juice seems more clean ,high-grade and easy to storage.So the market value is higher.
In fact the pomegranate juice is just a part of the pomegranate processing business, but if you want to doing your pomegrante processing business in a large scale.There are many final products during the pomegranate juice porcessing.Such as the pomegranate peel,and the pomegranate seeds without meat.After drying,you can sold them as chinese herbal medicine.Or grinding them into powder.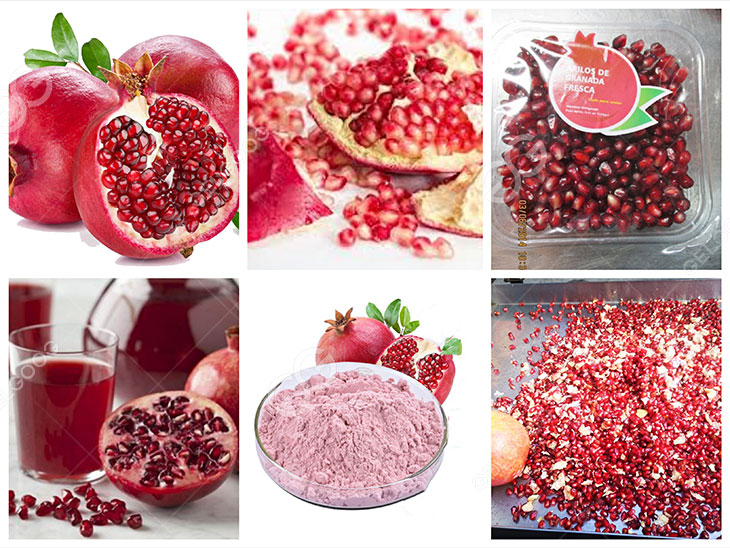 Even the pomegranate juice,you can process them into pomegrante powder with a professional juice drying machine.
We are professional pomegranate processing manufacturer,any questions of the pomegranate processing,you can feel free to contact us freely!