Description
The carrot and beetroot juice machine is special desinged for the root vegetables, it can squeeze the root vegetables such as carrot, beetroot, sweet potato, ginger, radish ect into juice or pulp.It can process 500-1500kg root vegetables per hour, it have the  high strength, high bearing pressure, no deformation, not easy to block, corrosion resistance, wear resistance, no slippage, low failure rate, convenient maintenance, long service life, and extremely high juice yield and dehydration rate features.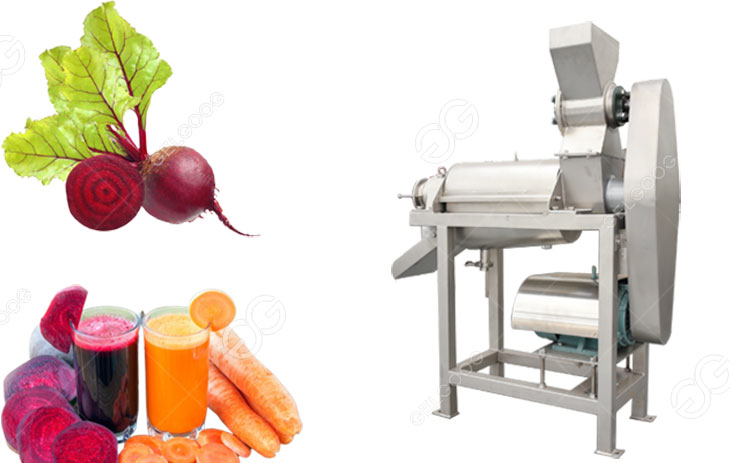 Beetroot Juice Machine Advantages
Slag outlet: exquisite and exquisite workmanship, beautiful and generous, evenly polished, making the slag discharge smoother;
Feeding port: The food-grade 304 stainless steel feeding port is used, which is round and beautiful, and the feeding is fast and safe;
Spiral pressure regulating head: simply adjust the spiral pressure regulating head from left to right, and control the dryness and humidity of the material for juicing by adjusting the pressure regulating head;
Motor: The power of the motor is larger, the output is large, the juice is fast, and the beet juice separation effect is good. The motor is specially equipped with a waterproof 304 stainless steel protective cover, which greatly improves the safety of use;
Here is the beetroot juice processing machine youtube testing video in our facotry for your reference!
Carrot And Beetroot Juice Machine Parameter
| | | | |
| --- | --- | --- | --- |
| Model | Capacity | Power(KW) | Size |
| GG-0.5 | 0.5T/H | 1.5+0.55KW | 900*320*1100MM |
| GG-1.5 | 1.5T/H | 4+1.5 KW | 1560*450*1640MM |
| GG-2.5 | 2.5T/H | 11+2.2KW | 2200×600×1960MM |
Sugar Beet Juice Machine Features
Screw push extrusion
Automatically complete all kinds of fruit and vegetable juicing, automatic separation of slag and juice
Improve the slag part, suitable for pressing beet, carrot, ginger and other high-fiber materials
Filter aperture: a variety of apertures (0.3-2mm), selected according to user requirements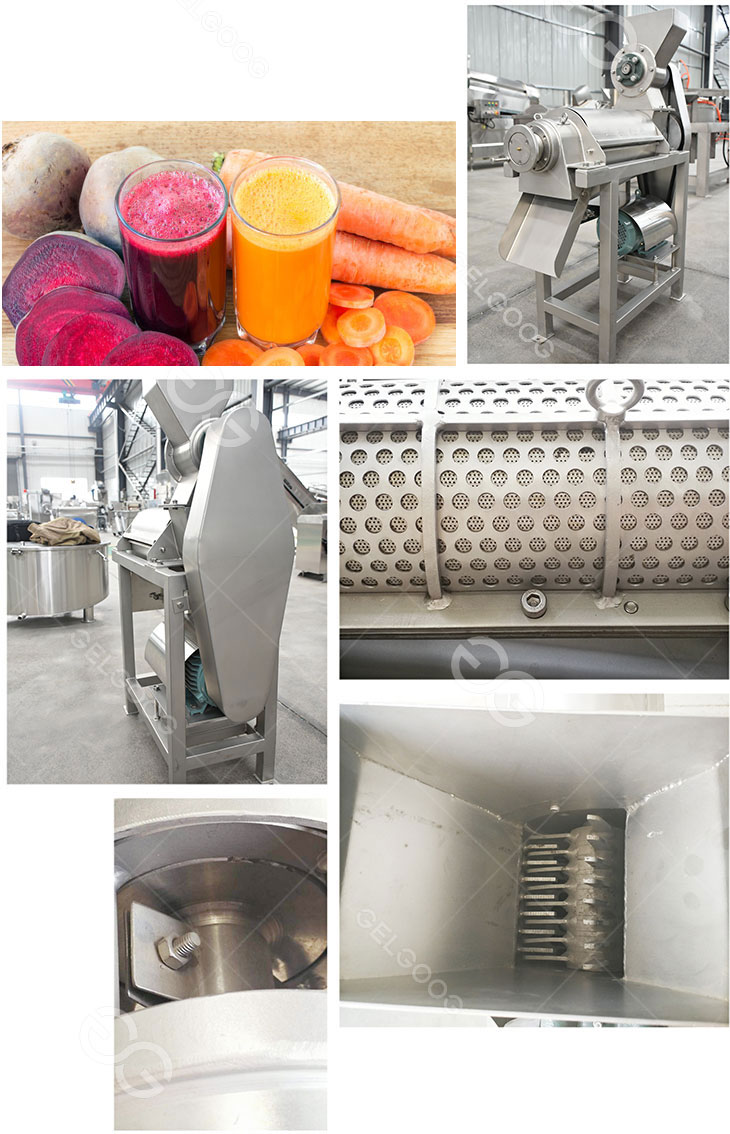 Carrot Juice Machine Maintenance
1. Operation
When starting the juicer for the first time, the pressure head should be adjusted to maximize the annular gap, and then the gap will gradually decrease. After the process requirements are met, use the brake to fix the position of the handwheel bearing seat.
Before starting the crusher, check whether there is foreign matter in the machine, and control the amount of feeding at a constant speed.
2. Maintenance
The filters must be washed with water and a brush after each shift. If filtering the juice with more fiber, depending on the production situation, add a washing net every time, and wash all the machines with hot water after pressing.
At each lubrication point, add lubricating oil once a week.
3. Pay special attention, when the material in the machine causes the belt to slip or the belt does not turn, the power supply should be cut off immediately to avoid the loss of the motor.