Description
The carrot juice extractor machine is suitable for automatic extracting and discharging of berries, pome fruits and vegetables. Before use, switch on the 220-380V voltage to start the juice extraction.
Carrot Juice Maker Machine Working Principle
The screw of the carrot juice maker machine gradually increases the bottom diameter along the direction of the slag outlet and the screw pitch gradually decreases. When the carrot juice machine push the carrot by the screw, it will reduce the the volume of the screw cavity to form the squeezing of the carrot. At the end you can obtain the carrot juice.
Here is our youtube video of carrot juice extractor machine working process in our factory for your reference!
Carrot Juice Extractor Machine Structure
The carrot juice extractor machine contains of front support, feed hopper, crushing, screw, filter screen, juicer, rear support, slag trough and other parts, a complete spiral main shaft.The motor drives the spiral through the V-belt pulley to work.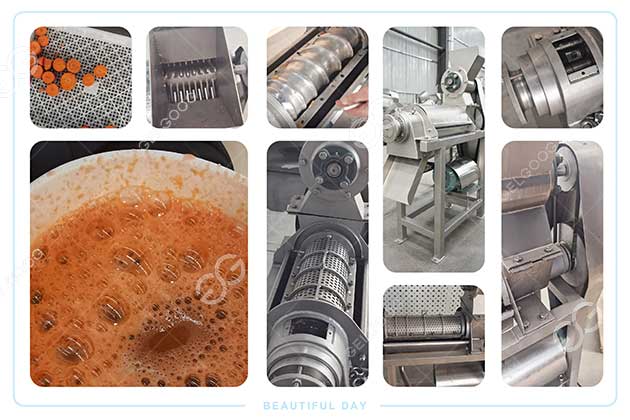 Carrot juice machine
Carrot juice is a vegetable juice ,by squeezing fresh carrots as the main raw material. Carrots are rich in various nutrients such as carotene. This nutrients have various functions such as improving eyesight, beauty, and strengthening immunity. Therefore, carrot juice has very high commercial value. How to process carrots in large quantities?
How To Make Carrot Juice
Choose fresh carrots→clean the carrot with a carrot brush washing peeling machine →cut them into small pieces(optional)→put the cut pieces into the feed mouth→obtain carrot juice→the residue is discharged →clean the carrot juice extractor machine after use.
You can directly drink the obtained carrot juice, or you can also choose to blend and sterilize it into a carrot juice beverage. We provide carrot juice production line turnkey projects.