Description
We are stainless steel duplex filter manufacturers ,this filter is suitable for filtering various fine particles in liquid materials, such as fresh milk.
Fresh milk refers to the milk that is get directly from the cow's body and does not exceed 24 hours. However, in order to prevent particles and dust from falling off the air, milk barrels, and cows,we need to process the fresh milk by a filter.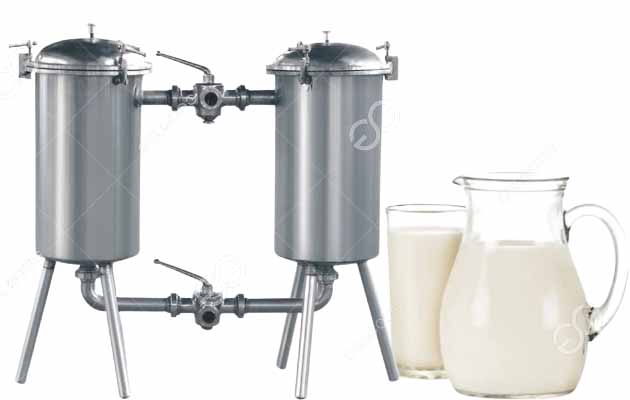 The two filter elements can use at the same time or alternately, and you can cloean or replace the fliter screen after the valve is switched in an uninterrupted state.It is especially suitable for continuous production in the pasture.It has the characteristics of large dust holding capacity, fast filtering speed, low use cost and convenient operation.
The filter contains of two cylindrical simplifications and connecting pipelines.The filter cartridge have a stainless steel filter screen and a filter support basket; the top have a vent valve to discharge the air in the filter during filtration.
Advantages
●This equipment material is stainless steel, include two cylinders, single-layer stainless steel welded structure, internal and external surfaces , and the top have a vent valve for venting during work.
●The pipe joint adopts expansion connection.After 0.3Mpa water pressure test, we can flexibly open and close the the three-way external thread cock. The equipment has compact structure, convenient operation and simple maintenance.
●The double filter adopts two three-way ball valves, we assemble the two single-tube filters on a machine base.There is no need to stop when cleaning the filter to ensure its continuous operation. It is the first choice for non-stop production line filter devices.
Applications:
Purification and filtration of invisible solid impurities in liquids such as beer, beverages, dairy products, and grain slurry products.This filter can equipment with milk pasteurizer to filter the weeds and other impurities in fresh milk collected from pastures.
Duplex Filter Manufacturers Filter Parameter
Passed area(m2):0.15/0.30/0.40
Filter capacity(t/h):2/5/10
Work pressure(Mpa):<=0.3
Import & export pipe diameter(mm):Φ32 / φ40
Material:SUS304 /SUS316L
Filter aperture:60-400mesh adjustable
Temperature:<=100℃
Generally ,when you got the fresh milk from your farm,the filtering is the firstly process,after flitering ,you aslo need homogenizer to breaking the fat in the milk more finely, so that the milk is more stable and looks whiter.If you want to prlong the milk's shelf life,you also need a milk pasteurizer!
Nowdays,there are many duplex filter manufacturers in the market,why to choose us,we have 10 years experience in food processing,and we can support the milk processing turnkey projects according to your specific request!!