Description
The industrial pineapple peeling machine can cut about 500 pineapples in one hour. The height and thickness can be cut, and the peeling thickness can be adjusted. Because the machine computer control has an adaptive function (that is, it automatically changes with height and becomes thinner). It solves the traditional manual peeling of pineapple which is not only slow, but also bleeding, sweating, messy and messy, especially the itchy and painful situation of pineapple juice splashing.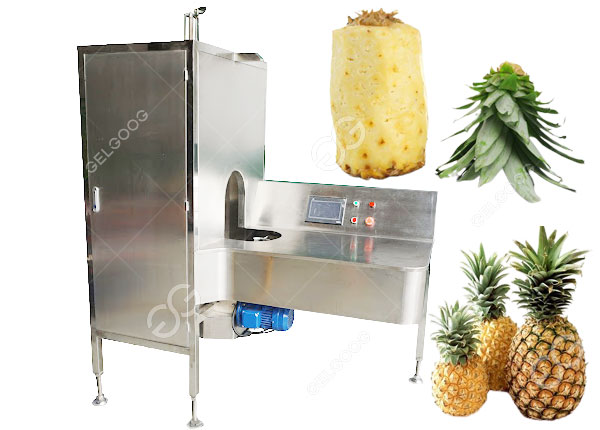 Industrisl Pineapple Peeling Machine Features
The main material is 304 stainless steel;
Well-known brands for electronic components;
Omron or Siemens for PLC and touch screen;
Stable operation, high safety, adjustable peeling thickness of pineapple;
Computer program control can automatically adapt to the size of pineapple;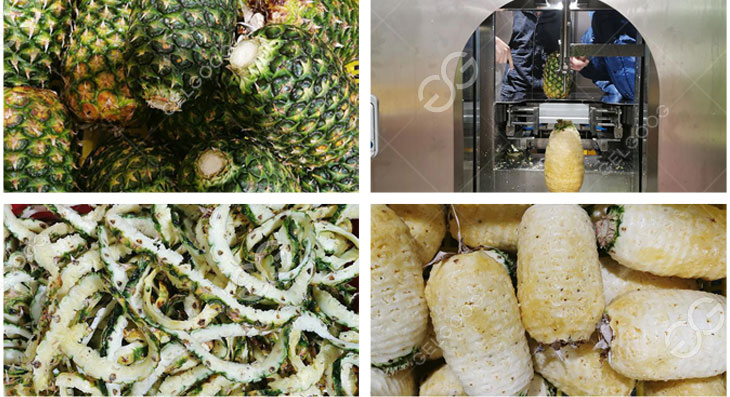 Industrial Pineapple Peeling Machine Technical Parameter
Weight: 170Kg
Power: 0.8kW
Voltage: 380V/220V-5OHz
Dimensions: 1500×750×1900
Pineapple Fruit diameter range: 80-250
Pineapple Fruit height range: 160-350
Pineapple Peeling thickness: 1.5-10
Pineapple Processing capacity: 500 pcs/hour
Here is the pineapple peeling machine testing in our factory for your reference!!
Automatic Pineapple Peeling Machine Advantages
Automatic pineapple peeling machine is a key equipment for industrialized processing of pineapple chunks, diced, slices, strips, dried, sauce, powder, preserved food, beverages, cans, fresh cuts and so on.
The automatic pineapple peeling machine has a wide range of applications, and it is also compatible with 26 kinds of fruits and vegetables, including Siji pomelo, honey pomelo, grapefruit, papaya, cantaloupe, jackfruit, taro, big yam, pumpkin, watermelon, and winter melon.
The automatic pineapple peeling machine is manufactured in accordance with EU standards, with program control and remote control. During operation, click on the touch screen, set the parameters, and put the pineapple in the fruit holder, the machine will automatically complete the separation of holding fruit, sending fruit, cutting fruit, and discharging.
The industrial pineapple peeling machine always equipment with the cut end-cut flap-coring removing machinery to composing pineapple processing plant.If you have any problem in pineapple processing,welcome to contact us freely.We can also support you the turnkey pineapple juice processing plant solutions according to your specific request!!