Description
The pineapple juice processing plant is very popular in South America, Africa, Asia and other countries. It can save the tedious work of manual peeling and save the pineapple processing plant cost. The shorter process route of the entire pineapple juice processing machine reduces the large-scale reproduction hazards of microorganisms during the processing process, improves the shelf life and final quality of pineapple juice, and obtains sweet and sour pineapple juice with strong aroma.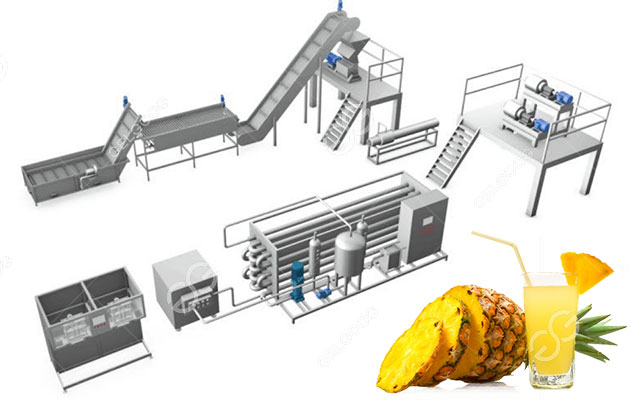 Pineapple Juice Processing Flow Chart
A complete set of pineapple processing plant mainly includes: raw materials → cleaning → picking (pruning) → lifting → juicing → buffering → pump → blending tank → sterilization → finished product tank → pump → filling → post-sterilization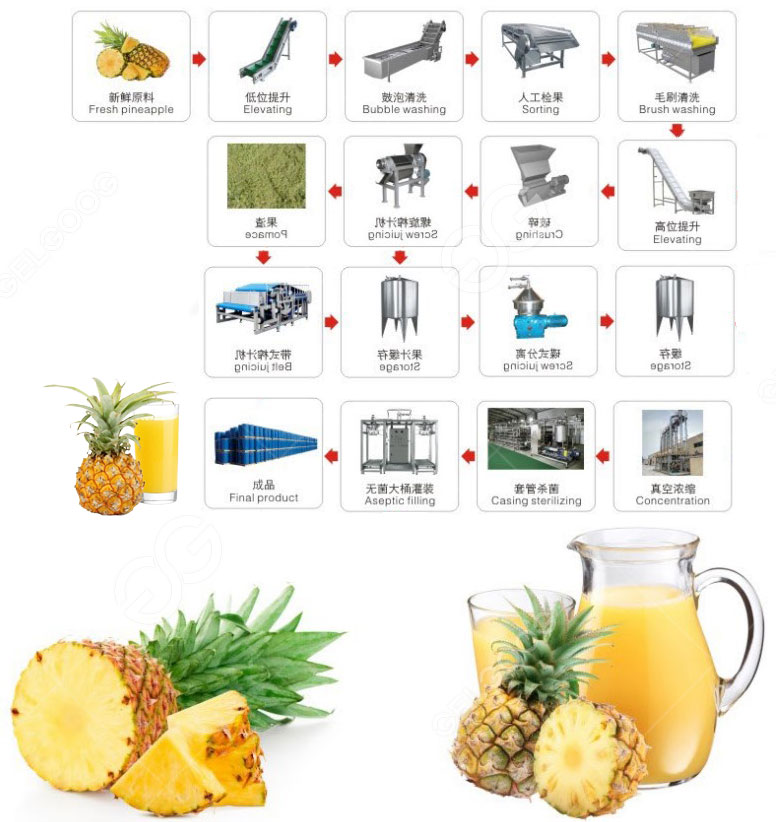 How to Get Juice from Pineapple?
Pineapple picking and sorting
Fresh pineapples should be fully ripe and should be harvested after the ripening period. And the pineapple used to make juice should be fresh and juicy, with soft flesh, less fiber, and slightly sweet and sour taste. Remove those rotten, immature or diseased fruits. 80% maturity is perfect. The yield of concentrated juice depends on the processing technology of the pineapple and the content of soluble solids. In addition, you can use the remaining materials of the pineapple tank and save production.
Here is the pineapple washing machine testing in our factory for your reference!!
Fesh pineapple washing
Cleaning is an indispensable process in the pineapple juice processing line. Ensure the follow-up process and the sanitation of the final product. We recommend fruit brushes and spray cleaners to achieve adequate cleaning. The stains, impurities and pesticide residues on the fruits can be removed by rolling brush and high-pressure spray. After the pineapple is cleaned, inspected, and cut, the juice is extracted by a cold press to obtain pineapple juice with high pulp content. The pulp content of the fruit can be adjusted according to product requirements.
Here is our Cameroon visiting our factory for the pineapple juice extracting machine working process for your reference!!
Pineapple juice extracting and filtering
The juice yield is not less than 65%. The pulp ratio in the raw juice is up to 20%, and it can be adjusted from 8% to 10%. This is a very economical way to produce high-grade concentrated pineapple juice. The juice filter is used after the juicer of the pineapple juice processing line. It can remove all suspended solids, fibers and colloidal particles by centrifugal force. In this way, it can further refine pineapple juice. The size of the pulp of refined pineapple juice is below 0.8mm.
Pineapple juice degassing
The vacuum deaerator is used to remove the air in the juice to inhibit oxidation and browning. By eliminating the gas attached to the particles, it can prevent solids from floating and improve the appearance of the juice. Degassing can also reduce foam during packaging and sterilization, and reduce corrosion to containers. Generally, degas after homogenization and before filling.
Pineapple juice pasteurizing
Pasteurization of pineapple juice will deactivate the enzymes that cause browning and can be stored for a long time after cooling. The juice sterilizer can achieve high-precision temperature control and rapid cooling, thereby shortening the sterilization time. High-quality stainless steel is used to ensure hygiene, stepless speed regulation, and continuous operation.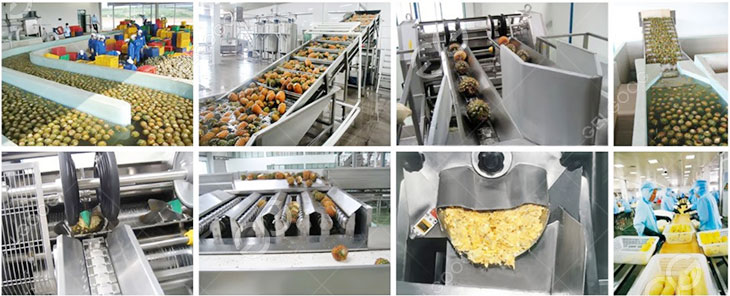 Pineapple juice cooling
The sterilized pineapple juice is sent to the heat exchanger, where they transfer heat to the freshly extracted juice. After this process, the temperature of the sterilized pineapple juice will drop to about 50°C. At the same time, the raw juice is preheated.
The aroma concentrate recovered from the concentrated pineapple juice can be added to the concentrated juice to improve the aroma of the juice. Our equipment can concentrate aromatic substances 400-600 times.
Pineapple juice filling
Pineapple juice concentrate needs to be filled with pineapple juice after pasteurization. Before pouring pineapple juice into it, thoroughly clean and disinfect the juice bottle. When the pineapple juice has cooled to a suitable temperature, put it into the bottle and seal it completely. Then wipe the water off the bottle, label it, and store it in the warehouse.
The pineapple juice filling machine integrates the three functions of cleaning, filling and sealing. The filling process is completed automatically. It is suitable for PET, PVC and glass bottles. Using advanced micro-pressure filling technology to achieve faster and more stable operation. More importantly, it uses PLC to control the automatic filling process.
Pineapple Juice Processing Machine Paremeter
Quantity
pineapple juice processor name
The main technical parameters
Pineapple Juice Processing machine
1
Conveyor belt with worktable
Model: With 4-station console

Reference size: 3000*800*800mm

Bandwidth: 600

weight:

Power: 0.75

Frequency conversion speed regulation range:

Material: 304+PU frequency conversion speed regulation

1
Bubble cleaning machine (plus lift, discharge port height 1600)
Model: XQ3000A

Reference size: 3000*1000*2000mm

weight:

power:

Frequency conversion speed regulation range:

Material: 304

1
Crushing and squeezing machine
Model: ZP1.5

Reference size: 1580×440×1450

Power: 5.5KW

Output: 1.5T

1
Low-level buffer tank
1. Volume: 500L;

2. Dimensions: Φ1000x600mm;

3. Sheet thickness: δ2.0mm;

4. Material: made of stainless steel SUS304

1
Pasteurizer
Material inlet temperature: normal temperature
Material outlet temperature: less than 40℃
Sterilization temperature: 110℃~135℃ adjustable
Sterilization time: 6S, 10S (switching)
Cooling water temperature: <18℃
Pineapple Juice Processing Plant Features
The flavor recovery system can prevent the loss of fruit flavor.
Processing capacity can be customized according to customer requirements.
The use of a crushing and beating machine can effectively increase the juice yield.
Concentrated at low temperature in a vacuum to maximize flavor and nutrition and save energy.
Our pineapple juice processing equipment can be used to process fruits with similar characteristics.
Use aseptic tube sterilization and aseptic barrel filling to produce high-quality aseptic juice products.
It can realize the PLC control of the whole production process, save labor and facilitate production management.
Pineapple Juice Benifits
Pineapple is a tropical fruit that is native to the Brazilian Amazon. The pineapple meat looks golden yellow, tastes sweet and sour, has a strong aroma and rich juice. In addition to being eaten directly, pineapples are usually made into juice or canned. Drinking pineapple juice can supplement nutrition and clear away heat.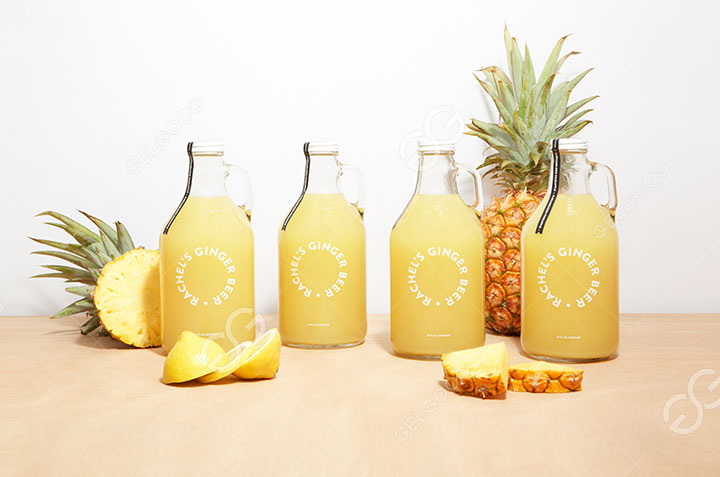 Pineapple juice is rich in fructose, glucose, vitamin B and C, citric acid, protease, etc. It can break down protein, promote digestion, improve blood circulation, diuresis, prevent bronchitis, and reduce the incidence of diabetes and cardiovascular diseases.
If you have any problem in how to make pineapple juice for business, welcome to contact us freely,we can support you the turnkey pineapple juice processing plant solutions according to your specific request!!