Description
Tomato sauce vertical storage tank material is  SUS304 and SUS316. The inner surface of the container is mirror-polished. You can request to polish ,sand or sandblast the outer surface.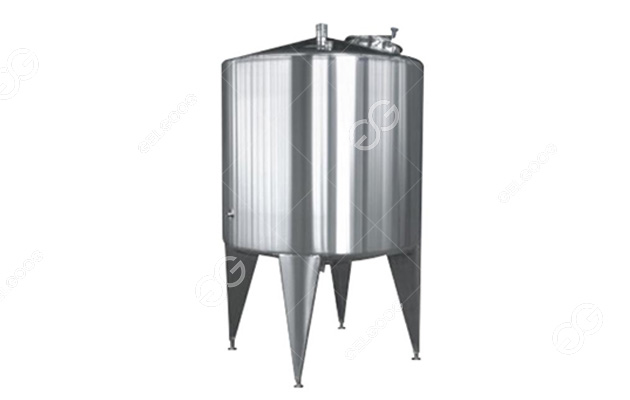 Tomato sauce vertical storage tank application for  the preparation or storage of fluid materials in the fields of pharmaceuticals, food, beverages, dairy products, daily chemicals, and biological engineering.In the food fields it usually used in tomato sauce and other fruit and vegetable pulp and juice storage.
The equipment contains inner tank, jacket, insulation layer, outer skin, reducer, stirring blade, thermometer and so on.
1. Liner: It materia lis  stainless steel plate 304 with polished surface.
2. Intermediate jacket: It material is A3 steel plate or 1Cr18Ni9Ti steel plate, reinforced ring spiral device, cold water from bottom to top (no pressure), to achieve the purpose of rising and cooling.
3. Insulation group: the stainless steel plate is cast into a fish-scale pattern, and the insulation layer keep at the outside temperature with polyurethane or glass wool to achieve the effect of heat preservation.
4. Reducer: Cycloid pinwheel planetary reducer, fixed on the bracket in the beam,the reducer wheel output shaft connect with the stirring paddle,and the application of looper is connection, which is convenient for disassembly and cleaning.
5. Thermometer: the specification is 0~100℃, installed on the beam, extend the low medium position straight, so that the liquid material can also indicate the temperature when used in the low position, so as to achieve the purpose of sterilization and aging.
Tomato Sauce Storage Tank Parameters
| | |
| --- | --- |
| Volume L | Dimension mm |
| 300 | Φ1000*600 |
| 500 | Φ1200*600 |
| 800 | Φ1500*650 |
| 1000 | Φ1600*650 |