Description
The tomato sauce Jacketed Kettle with mixer is made of 304 food grade stainless steel. The addition of a mixer on this machine can ensure that the added ingredients can be mixed evenly and the pot will not be stuck. The equipment is beautiful, easy to install and easy to operate.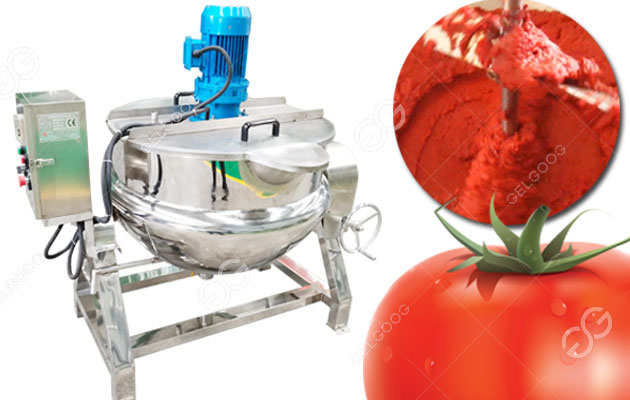 Jacketed Pot Material
(A) The inner pot body is stainless steel (SUS304 / SUS316L), the outer pot body is carbon steel (Q235-B), and the exterior is coated with anti-rust paint;
(B) The inner and outer pots are stainless steel (SUS304 / SUS316L).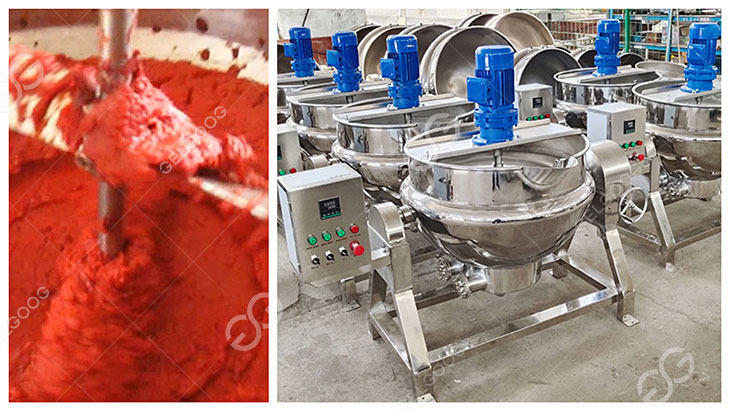 Tomato Sauce Jacketed Kettle with Mixer Features
1. Large heating area;
3. Heating evenly;
4. Fast heating speed and short boiling time of liquid material;
5. Safe to use, easy to operate, and widely used:
6. There are a variety of heating methods to choose from, as well as the choice of discharging methods (vertical and tiltable) and stirring devices;
Here is the jecketed pot working process in our factory for your reference!!
Tomato Sauce Cooking Pot Parameter
| | |
| --- | --- |
| Model | GG-100 |
| Capacity(L) | 100L |
| Diameter(mm) | 930mm |
| Pressure (MPa) | 0.3 |
| Temperature | 140~160 |
| Dimension(mm) | 1320*970*960mm |
Jacketed Pots Classification
1. According to the structure, it is divided into: tiltable jacketed pot, vertical jacketed pot
2. According to the heating method, it is divided into: electric heating jacketed pot, steam jacketed pot, gas jacketed pot
3. According to process needs, it can be divided into: jacketed pot for ketchup jacketed kettle with stirring and jacketed pot without stirring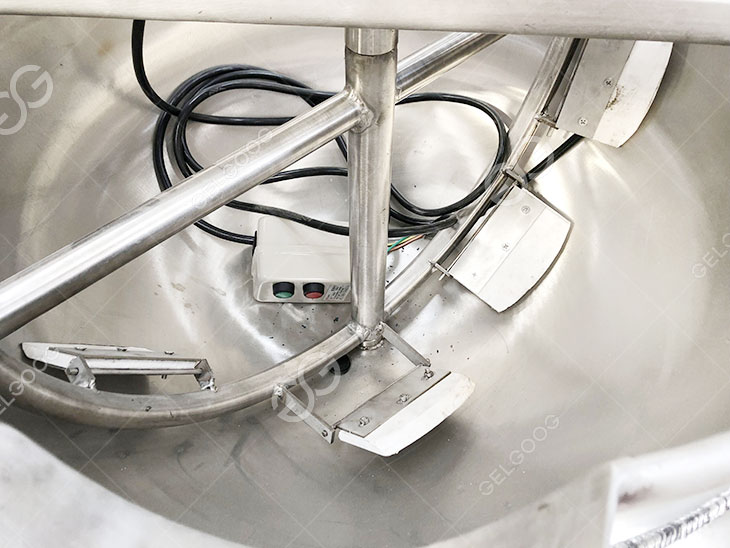 The structure and material of the sandwich pot
The Steam Jacketed Kettle for chechup also called jacketed pot is composed of a pot body and a tiltable rack or supporting angle; the pot body is a double-layer structure composed of an inner and outer spherical pot body, and the middle interlayer is called oil or water.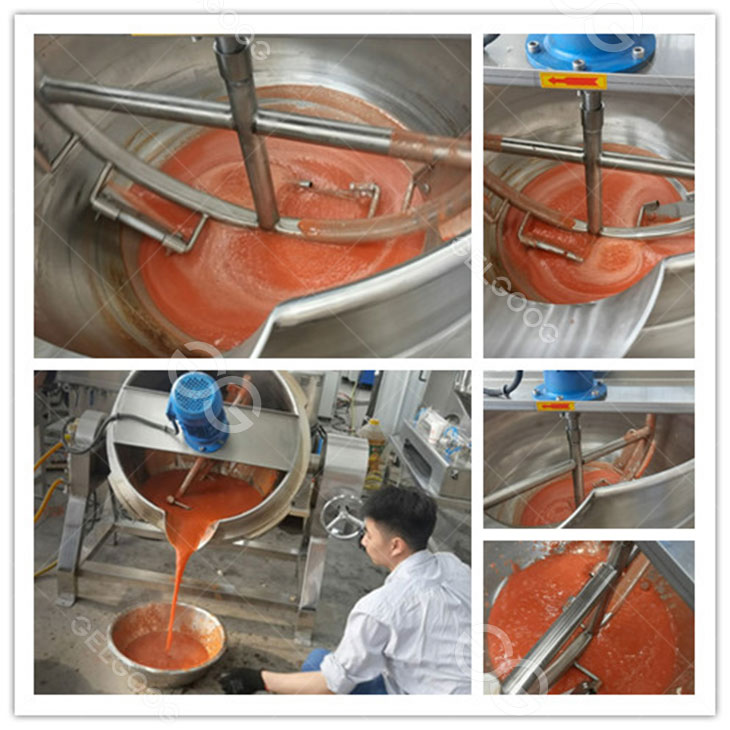 Jacketed Pot Application
The sandwich pot can be used to boil water, stir-fry, boil rice porridge, porridge, soup, cook rice, sugar, glue, boil oil, cook noodles, and stir-fry fillings (pour bean paste, lotus paste)
Stuffing, moon cake stuffing, mung bean stuffing, etc.). Boil dried bamboo shoots, boil stewed products (add dried tofu, meat products, short, etc.). Marinated products (put chicken feet, chicken wings, marinated eggs,
Duck feet, duck necks, pig ears, etc.), soy sauce and other food industries.
If you want to make the tomato ketchup,we can also customized the tomato sauce puduction line accoding to your request!!