If you want to start a tomato paste sauce business in kenya,the tomato sauce making machine is necessary.The tomato sauce making machine in kenya mainly include tomato washing, crushing, pulping ,tomato sauce cooking ,filling ect pipes connecting equipment.
The tomato sauce making machine in kenya can processing the red mature tomatoes harvested from the small scale tomato farm into tomato sauce or ketchup , packaged them into sachet.Then the Kenya tomato farmers can directly sell them into the supermarkrt.At present, the instant tomato sauce ketchup packed in sachet small bags can directly face to the consumers, and the market prospect is broad. It is the best choice for your investment!
How To Make Tomato Sauce In Kenya
The tomato sauce making machine can help kenya small scale farmer making the tomato sauce ketchup,first of all, we need to clean the tomatoes harvested from the farm, and pick out the unripe or worm-eye tomatoes. The washed tomatoes are preheated, crushed, and beaten. After the tomato paste is obtained, we directly use the jacketed pot with stirring function to cooking the tomato sauce. Then perform hot filling and water bath sterilization after filling.
Here is our tomato sauce testing video in our factory for your reference!!
Air bubble washing machine:Under pressure of air bubble and water spraying to clean those tomatoes.
Crushing machine:To crush tomatoes for the preparation of pulp making;
Pulp making machine: The machine in the form of single-channel, automatic separation of tomato pulp and residue;
Temporary storage tank:The tank is made of high-quality SUS304 stainless steel is used for stroage the tomato pulp temporarily;
Cooking Pot:Used to concentrate tomato pulp, evaporate excess water;
Tomato paste filling machine:Filling tomato sauce/ketchup into different size of bottles, tins.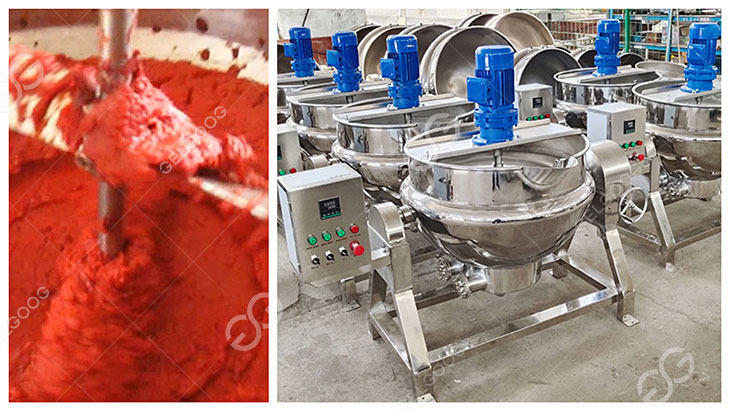 The manufacturing method of this kind of tomato sauce is simple and easy to operate, and the cost performance is extremely high. Especially the jacketed pot for boiling tomato puree, which integrates the functions of sterilization, concentration, and blending equipment. It can save money for you to start a ketchup business, and it is easy to get started, especially suitable for customers who are preparing to start a new tomato sauce ketchup business.