To make Moringa juice, we first need to clean and sterilize the fresh Moringa leaves, and then air-dry the excess water on the surface of the Moringa leaves. Put the cleaned Moringa leaves into the feed port of the juicer to get the Moringa juice from the fresh Moringa leaves.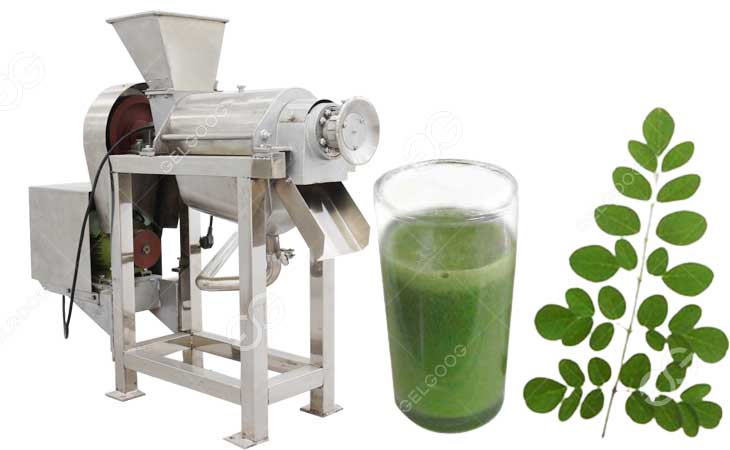 Moringa Juice Machine Structure
The whole moringa juice extractor machine material is stainless steel, composed of front support, feed hopper, screw, filter screen, juice container, rear support, slag discharge tank and other parts.
The left end of the spiral main shaft is supported in the rolling bearing seat, and the right end is supported in the handwheel bearing seat. The motor drives the spiral through a pair of V-belt pulleys to work.
Moringa Juice Extractor Machine Features
★ Spiral push extrusion;
★ Self-separation of slurry and residue;
★ 304 stainless steel, reliable and hygienic.
★ Wide application range.
Moringa Juice Extractor Machine Working Process
The moringa juice extractor machine with a large input, you can put the washed moringa into the input ,in the moringa juice extractor machine have a screw shaft.When the moringa juice machine working the screw shaft will whirl with the moringa leafy.During the rotation, the Moringa leaves are squeezed, the juice in the Moringa leaves is squeezed out, and the squeezed fiber is discharged through the residue outlet.
The screw of the moringa juice machine gradually increases the bottom diameter along the direction of the slag outlet and the screw pitch gradually decreases. When the moringa juice machine push the carrot by the screw, it will reduce the the volume of the screw cavity to form the squeezing of the moringa. At the end you can obtain the moringa juice.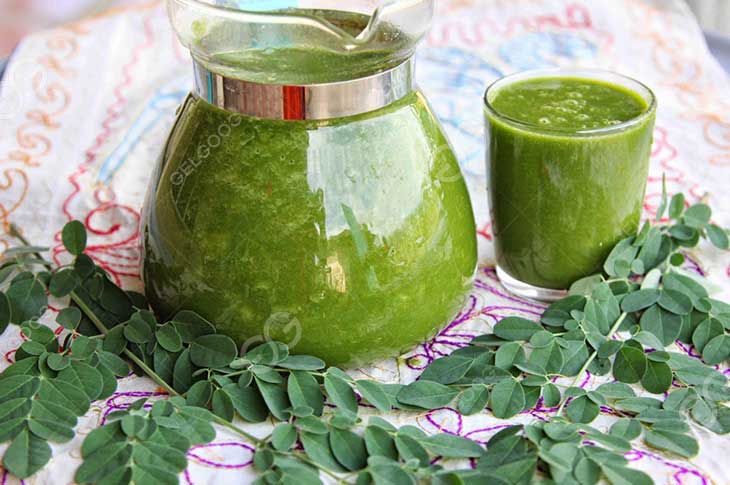 Incredible Health Benefits Of Moringa Juice Recipe
Moringa is a nutritional powerhouse
Rich in antioxidants
Moringa helps in weight loss
It may help lower blood sugar levels
It protects the liver
Preventing & treating cancer
Helps to treat stomach disorders like constipation, gastritis & ulcerative colitis
Because of its antibacterial & antimicrobial property, it helps to fight against bacterial disease
Helps to treat edema
Protecting & nourishing skin & hair
Makes bone healthier
Treating mood disorders like anxiety, depression & fatigue
Good for eye health
Reduces high blood pressure
Helping wounds to heal
It helps to reduce inflammations
Moringa can lower cholesterol
It maintains a healthy heart
Reduces headache
With this moringa juice machine ,you can process 500kg fresh moringa per hour.It can meets your industrial processing request.And we can also support you the moringa juice sterilization and filling machine if you request.