Description
The pomegranate seed removal machine can "pull out" the pomegranate seeds one by one to get the pomegranate with intact flesh. It is an essential equipment for processing high-quality pomegranate, fruit juice, sauce, wine and vinegar.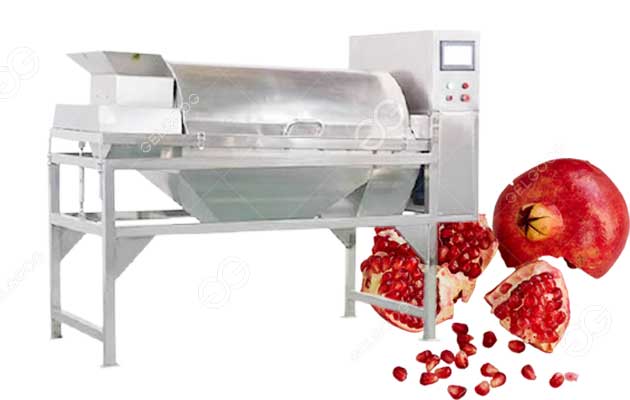 The composition of pomegranate is peel: fruit grain: diaphragm = about 20:10:70. The mixed squeezing process of pomegranate skin-film-grain has poor taste and difficult to remove peculiar smell. Pure fruit pomegranate juice is the market expectation for many years!!
Pomegrante Peeling Machine Features
1. EU standard material, stainless steel for main material and housing frame;
2. Quality assurance, Japanese Omron or German Siemens electronic components and PLC;
3. Simple operation, visual touch screen, humanized design;
4. Fully automatic production process, only need to set the parameters.
Pomegranate Seed Removal Machine Parameters
| | |
| --- | --- |
| Capacity: | 1t/h |
| Available fruits: | Pomegranate/Grapefruit/Cactus Fruit/Orange/Lemon/Tangerine/Passion Fruit |
| Power: | 3kW(380V-50Hz) |
| Weight: | 360kg |
| Dimension: | 2050×850×1550mm |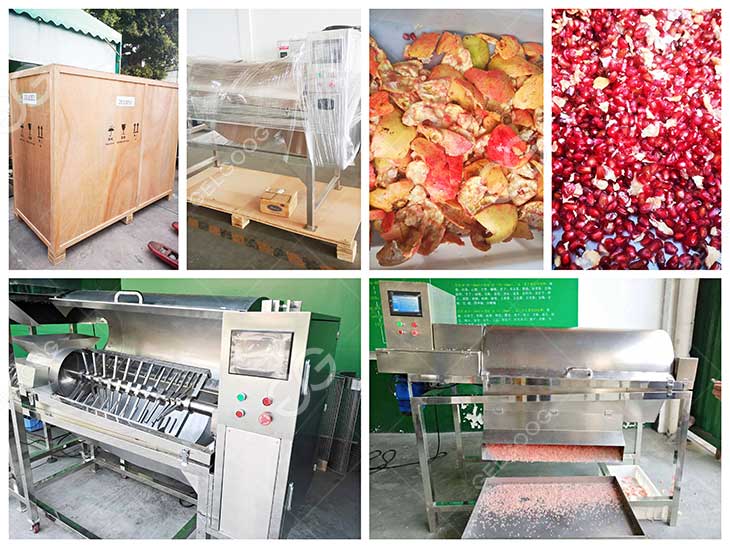 Pomegranate Deseeder Working Process
The motor is driven by the V-belt to make the rotor parts rotate at a high speed, and the pomegranate enters the machine evenly from the feed port;
The feeding pulp leaves screw the pomegranate to the beating rod, and under the action of the beating rod, the pomegranate is mashed;
Due to the existence of centrifugal force, the juice and meat (has been pulpy) in the pomegranate seeds enter the next process through the sieve holes on the screen;
The cores, skins, seeds and pomace are discharged from the slag outlet through the slag pulping leaf, so as to realize the automatic separation of the pulp and slag.
Here is our youtube video of the pomegranate peeling working process for your reference!
Pomegranate Deseeding Machine Advantages
▼The whole machine is made of 304 stainless steel.
▼Wide application range, suitable for pomegranate, passion fruit, grapefruit, etc.
▼No damage to the seeds of the fruit. High peel rate.
▼Simple operation and simple structure.
▼Corrosion resistance and long service life.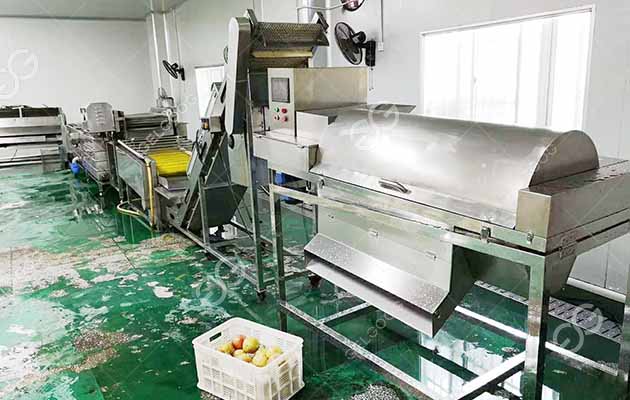 Before peeling pomegranates, you can choose pomegranate sorting and cleaning equipment for processing. Generally, the peeled pomegranate seeds need to equipment with a pomegranate juice making machine for further processing to obtain delicious pomegranate juice.