Description
The onion rings slicer machine is professional for slicing root and stem fruits and vegetables according to the processing needs of snack foods such as fried potato chips, cassava chips, yams, banana chips, etc.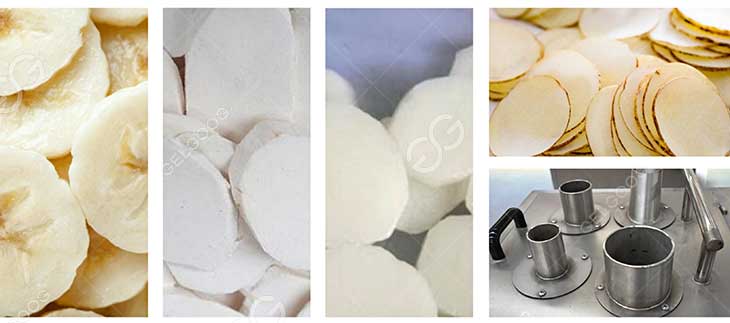 The whole machine material is  high-quality food-grade 304 stainless steel. It can cut onion slices of 1.5-6mm. You can adjust the the thickness of onion slices  by adjusting the screws on the blades. The slices of the cut products are neatly shaped and the thickness is uniform. The yield rate is 99%. , To meet the processing needs of export products.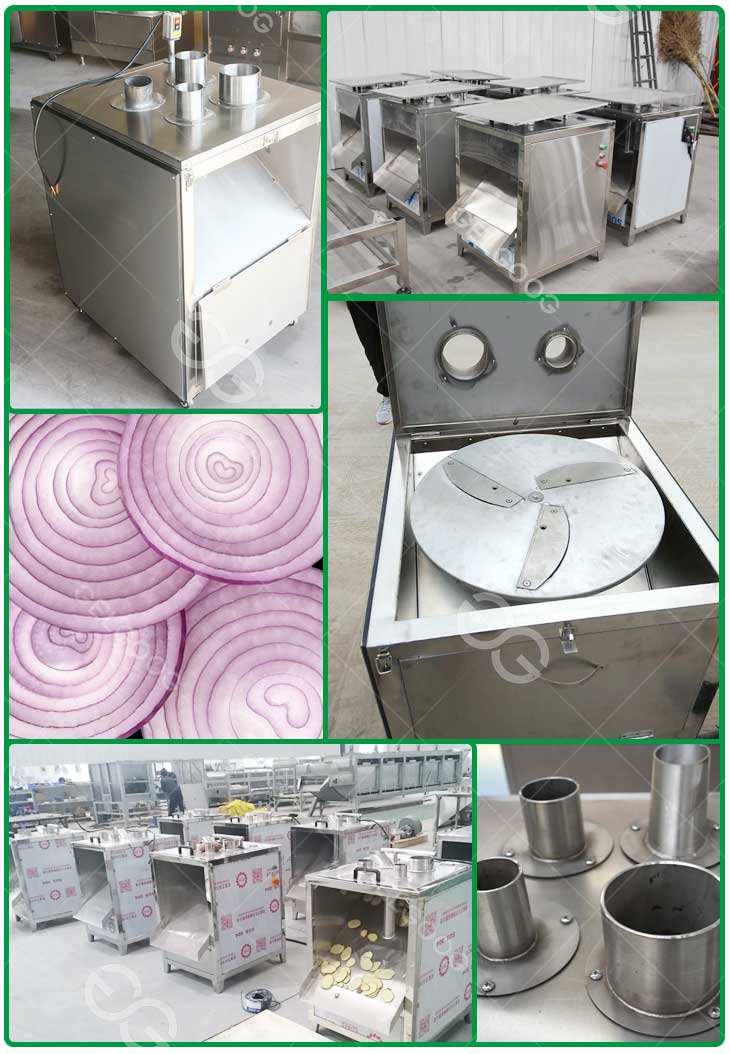 This machine is mainly composed of a frame, a rotating cutter head, a transmission part, a motor, and a discharge port.
Here is our youtube video s working process for onion rings for your reference!!
Onion Ring Slicer Application scope:
Onion rings slicer machine is also suitable for processing potatoes (potatoes), lotus roots, bananas, apples, pears, bitter gourds, carrots, cucumbers, yam, etc. It is a stalk, root-stem fruit and vegetable slicing equipment.
Onion Slicer Electric Technical Parameters:
| | | | | |
| --- | --- | --- | --- | --- |
| Type | Power | Weight | Size | Capacity |
| Slicing Machine | 0.75kw,380v-3/220v-3 | 100kg | 650*550*900mm | 100-800 kg/h |
Onion Slicer Machine Features:
1. Simple operation, easy to clean
2. Four calibers, cross-cutting and oblique cutting
3. You can adjust the slice thickness at will
Onion Slicer for Onion Rings advantages:
1. The cut surface of the onion is smooth and without scratches, without a knife, you can freely adjust the thickness of the product , and the cut slices are smooth and uniform without breaking.
2. Made of high-quality stainless steel, you can customzie the inlet design, no wearing parts, centrifugal working principle, the equipment has small vibration and long placement.
3. Compact structure design, beautiful appearance, easy operation, high efficiency, low power consumption, easy cleaning and maintenance, safety and sanitation.

After slicing the onion,we usually frying them by the onion frying machine,but we can also drying the onion rings and then seasoning it.Some people also use the slicied onion to grind the onion paste.There are many onion processing methods,how do you want to process your onion rings,pls feel free to tell us your request ,we can support the onion processing turnkey projects!!