Description
We selling the commercial tomato milling machine is powered by electric with 2890r/min,it can milling the diced tomato cubes to ketchup for commercial profits!
Because the entrance size of our 80-type colloid mill is 50mm, we first need to use a tomato float washer to clean and air-dry the tomatoes that need to be processed before grinding tomato paste, and we need to use a tomato dicing machine to cutting the washed tomatoes. Tomatoes are diced to facilitate smooth cutting.
Commercial tomato milling machine Parameter
Model
GGB-50
GGB-80
GGB-110
GGB-130
GGB-180
GGB-240
GGB-300
Output size
(mesh)
50-100
50-100
100-200
100-200
100-200
100-200
60-200
Capacity(kg/h)
7-8
70-100
300
400-600
800-1000
1500-2000
3000-4000
Power
(KW)
1.1(380V)
1.5(220V)
4(380V/220V)
7.5
15
18.5
45
75
Weight
(kg)
50
150
175
285
340
1300
1600
Colloid Mill Principle
The colloid mill mainly works under the condition of high speed and flexible adjustable stator and rotor gap friction.
There is a wide inlet gap and a narrow outlet gap between the conical rotor and the stator. During operation, the dispersing head eccentrically runs to make the solution eddy, so it can achieve a better grinding and dispersion effect.
Here is our  commercial tomato milling machine youtube working videos for your reference!
 Tomato milling machine Features
▼The stator and rotor are made into a cone shape with three-level serrated protrusions and grooves with increasing fineness. The stator can be adjusted to the required distance from the rotor without limitation.
▼The depth of the dentition: from the beginning of 2.7mm to the end of 0.7mm, the range is relatively large, the larger the range, the wider the particle size of the processed material.
▼Structural helical teeth with grooves, the groove depth of each grinding head is different, and the volume of the flow channel of the helical teeth is from top to bottom from large to bottom.
Electric Tomato Milling Machine Application
In addition to the production of ketchup, it is also suitable for aloe vera, pineapple, sesame, ice cream, mooncake filling, cream, jam, juice, soybean, soy sauce, bean paste, peanut milk, protein milk, soy milk, dairy products, and malted milk extract , Flavor, various beverages and other materials.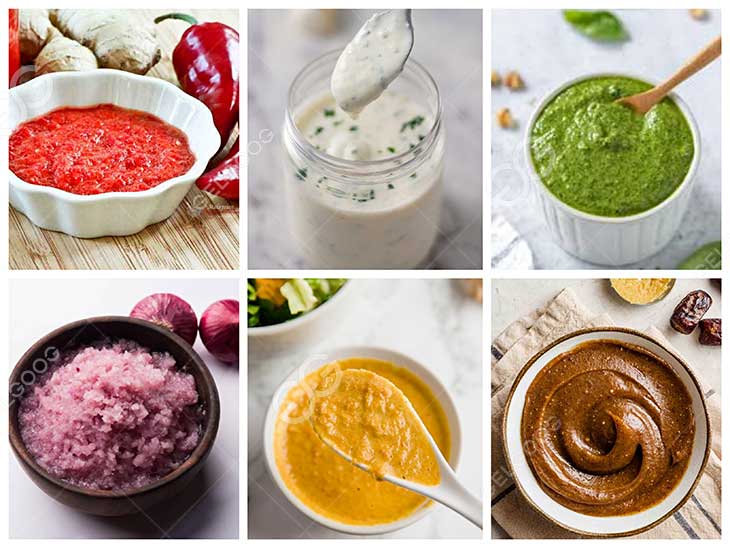 If your final products is tomato sauce or tomato paste not ketchup, you also need the tomato jacketed pot to sterilization and concentration processing of your ketchup!