Description
Tomato washing machine is also called tomato floating washing machine, which uses water power to transport tomatoes to the next process, and sand and gravel settle to the bottom layer for drainage.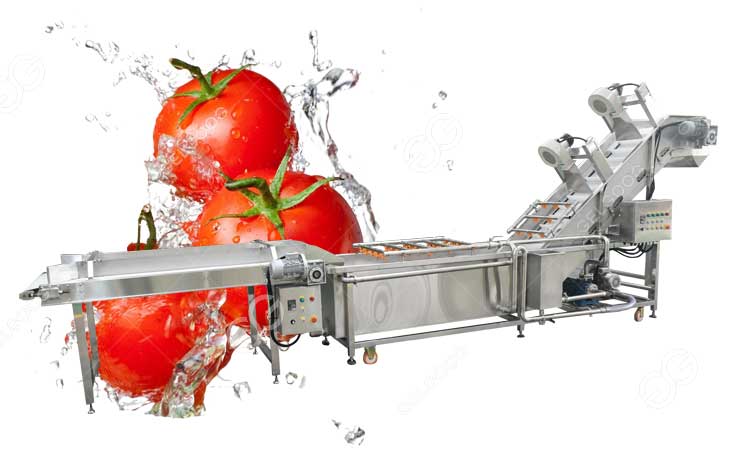 It is used for the floating washing of fresh tomatoes, carrots, apples, mustard tubers, onions, peppers and other root and bulk fruits and vegetables.
Tomatoes Washing Machine Advantage
1. Save water, electricity, time, cleanliness and sanitation.
2. No damage to vegetables, high efficiency, small footprint, safe and reliable.
3. Simple installation, easy operation, convenient maintenance and low energy consumption.
Tomato Washing Machine Parameters
| | | | | | |
| --- | --- | --- | --- | --- | --- |
| Tomato Washing Machine | Power(KW) | Size(mm) | Capacity(KG/H) | Weight(KG) | Roller Size(mm) |
| GGXM800 | 1.1 | 1600*850*800 | 400 | 220 | 800 |
| GGXM1000 | 1.5 | 1800*850*800 | 600 | 260 | 1000 |
| GGXM1200 | 1.5 | 2000*850*800 | 800 | 280 | 1200 |
| GGXM1500 | 2.2 | 2300*850*800 | 1000 | 320 | 1500 |
| GGXM2000 | 3 | 2800*850*800 | 1500 | 420 | 2000 |
| GGXM2600 | 4.37 | 3100*850*1450 | 2000 | 600 | 2600 |
Tomato Fruit Washing Machine Features
1. This equipment is suitable for cleaning all kinds of fruits and vegetables. The tomatoes are transported by hydraulic conveying method which is hygienic and reliable, which can not only play a role in cleaning but also save electric energy.
2. Adjustable feet, aeration pump, clean thoroughly, clean and do not damage the tomato.
3. Under the impulse of the conveying trough water, the tomatoes follow the water flow to the next process. It is equipped with a spray cleaning device. The ingenious double-layer design makes the sand and gravel settle to the bottom layer and drain away.
4. High-quality stainless steel production, super welding technology, unique design process, all reflect the external beauty and internal practicality.
How to Wash Tomato
The structure and principle of the tomato washing machine is to replace the mesh belt conveyor belt in the water tank with a fence plate or a mesh plate, which can sink rocks and remove heavier debris, and ensure the purity of the discharge.
The head of the box is equipped with five water injection ports. When the tomato passes through the box, it will continue to advance under the impact of the water injection port. When the water comes out, the high end is equipped with a spray head and a high-pressure fan to effectively remove the surface. Moisture, to ensure the requirements of the next process.
The principle of water shock wave can wash the surface of tomatoes, improve work efficiency by more than 50%, effectively kill harmful bacteria, and decompose residual pesticides;
Tomato Cleaning Machine Profits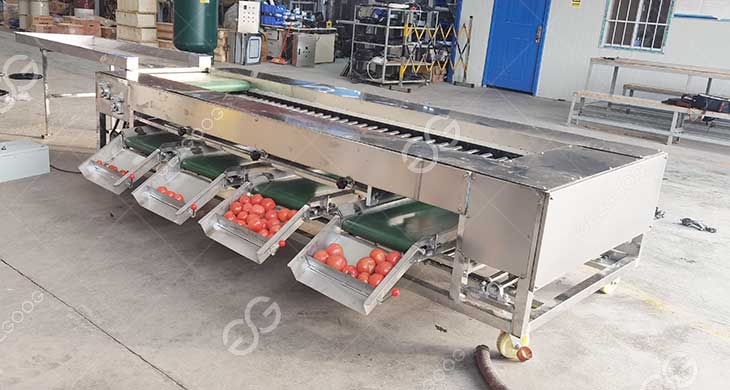 If you are in the fruit and vegetable pre-processing business, you can also use a tomato sorting machine to sort the cleaned and air-dried tomatoes, pack them and sell them in supermarkets at twice the price.
If you are a large-scale tomato planting farmer, you don't have to worry that the tomatoes you grow will not be sold out in the current season.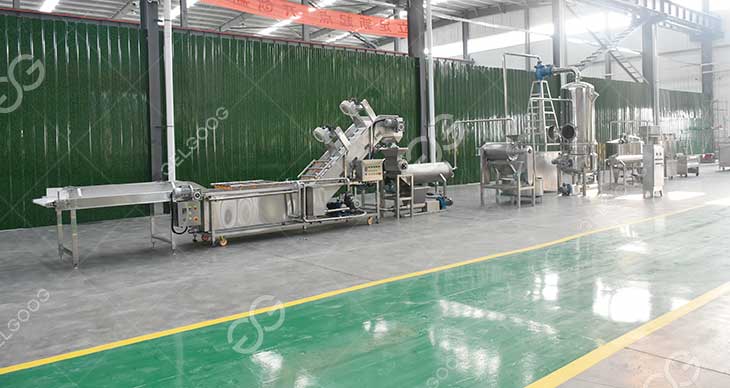 The cleaned and air-dried tomatoes can be further processed through our ketchup production line and made into large barrels of tomato sauce. The shelf life is up to one year, which is not only convenient for storage, but also can bring more to your tomato planting business. income.