Description
As a professionals tomatoes paste production line manufacturers we support design, manufacture, installation and commissioning, training and other turnkey projects of tomato processing plant .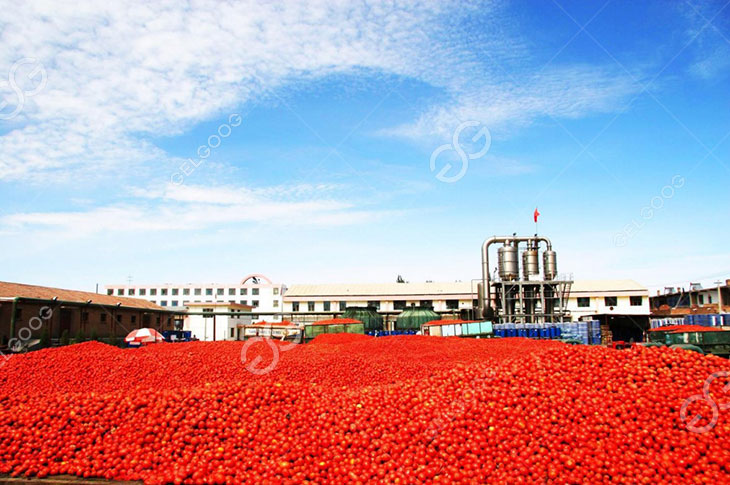 Tomato paste manufacture plant Parameter:
| | |
| --- | --- |
| Raw material | Fresh tomato |
| End products | Tomato paste |
| Ingredients | raw paste, white sugar, flavor additives |
| Sterilizing | UHT |
| End package | Aseptic bag drum/ Pouch /Bottle/Tin |
| Processing capacity | 5 ton raw tomatoes per |
| Efficient input | 5 ton per hour (5% as waste, pee |
| 4.5-5.5Brix | Fruit consistence: 4.5-5.5Brix |
| 28~30Brix | Product consistence: 28~30Bri |
| Break method | Hot-break |
| Output | Around 800kg per hour |
The tomato paste manufacturing plant mainly include Raw tomato washing,sorting,crushing,pulping,preheat, concentration tomato paste,tubular sterilization, aseptic filling ,get the end product.
Tomato air bubble washing machine
Function:
It used for the washing and cleaning of fresh fruits like tomato, apple, pear and strawberry to ensure raw material's quality.
Features
▼Main structure with SUS 304 Stainless Steel
▼Stainless steel spraying head above and spray water with high power
▼Stainless steel rolling wheel, design against clapping the tomato
Tomato crusher
 Function:
This machine is suitable for crushing berries and pome fruits and vegetables. At the same time, it can also crush pre-cooked and softened pome fruits and vegetables, with a crushing particle size of 5-8mm.
Features:
▼Stainless steel 304
▼Wide range of applications
Buffer tanks
Functions:
It can temporary buffer 5000lmateriall with 304 food grade stainless steel have any harm to human body.
Features:
▼Specifications can be customized according to customer requirements;
▼Made of stainless steel plates such as SUS304/SUS316;
Tomato Pulping Machine
Function:
The tomato pulp extraction machine is suitable for the separation of tomato pulp residue after crushing and pre-cooking. One is coarse pulping, and the second is fine pulping.
Features:
▼Automatic separation of juice and residue (skin, seeds, nuts);
▼Different screens can be configured to obtain different processing effects;
▼It has a wide range of applications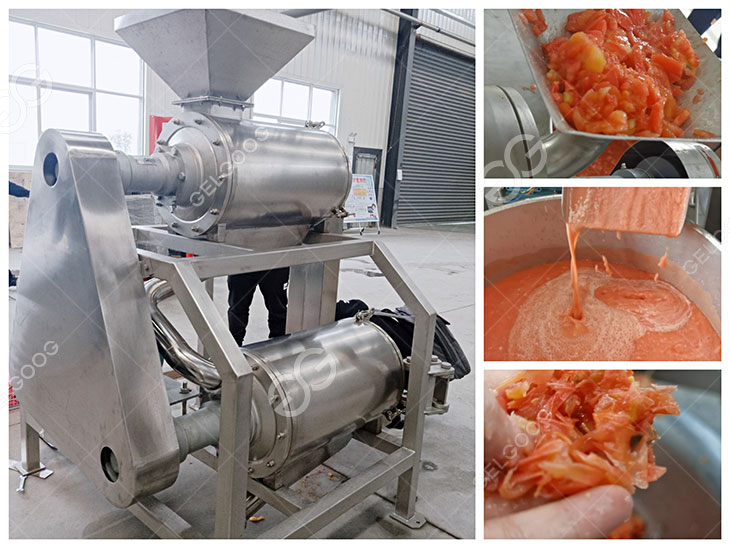 Vacuum Continuous Evaporator
Function:
Suitable for heat sensitive and high viscosity materials, such as tomato sauce, etc Continuous concentration in vacuum at low temperature.
Features:
▼This equipment has the functions of heating, cooling, heat preservation and stirring.
▼The contact part of the equipment and the material is made of 316L stainless steel, and the inside and outside of the equipment are polished with mirror finish.
▼The tank is equipped with CIP cleaning port, breathing port, material inlet and outlet, sight glass, liquid level gauge, thermometer and other components.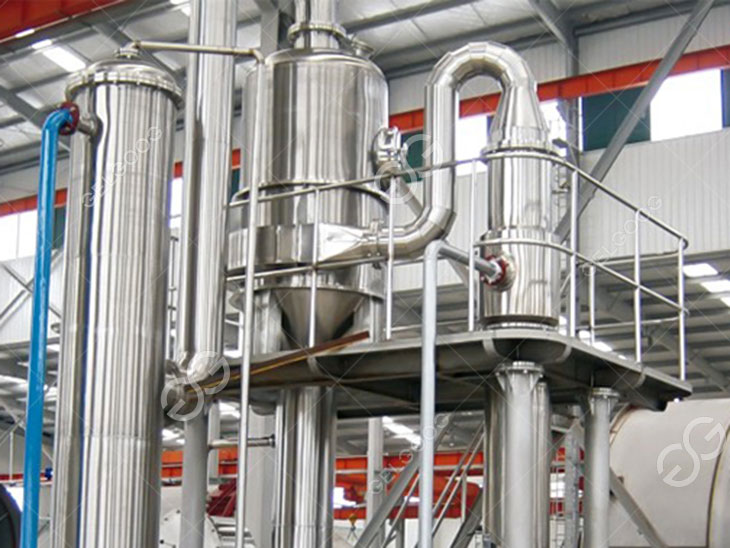 Preparation tank
Function:
Used for the fully agitating the collocation of tomato pulp together with other ingredients.
Features:
▼Material: #304 stainless steel
▼135°glass level gauge, 180°sampling valve
▼Internal wall polished with 300mesh, external wall honed.
▼High speed shear head for the shearing & mixing of products
▼Fully closed cover with anti-dust & anti-flies air hole, 360°CIP cleaning nozzle,
▼Digital thermometer, temp rang 0℃—100℃
UHT sterilizer
The equipment are widely used in the confirmation & renewing of original formula, examination of taste, assessment of colour, application of stabilizer/emulsifier, development of new products, of which products are milk, juice, tea drink, drink milk, tomato paste, seasoning, beer, ice cream, egg products, solider powder, etc.
This UHT integrates heating, sterilizing, cooling and heat recycling, which reflect the real production data. So it's ideal for universities, institutes and manufacturing units to do small production.
Aseptic Bag in Drum Filling Machine
Function:
Aseptic packaging of concentrated ketchup and other fluids, the product can be stored for more than one year under normal temperature conditions, which can save the cost and risk of low-temperature refrigeration transportation
Features :
▼The product equipped with the control system consisting of the man-machine interface and PLC is easy and clear for operation.
▼In addition , it also has function of automatic check and protection.
▼Protection function: electromagnetic flow meter system increase the filling accuracy and reach the ration filling
Automatic Pouch Packing Machine
Function:
The paste filling machine is an automated precision equipment that can seal and pack other hot and cold sauces such as ketchup.
Features:
▼Packing speed 30-60 bags/min;
▼Bag size L50-180mm, W50-120mm
▼Control system PLC+ screen ;
▼Measuring cup with small weighing error;
▼Roll the bag, the packaging is more smooth;
▼Material stainless steel;
Auto tomato paste tin can seamer
Function:
Apply for various size of round shaped can seaming, like tinplate , aluminum, PET or other plastic cans.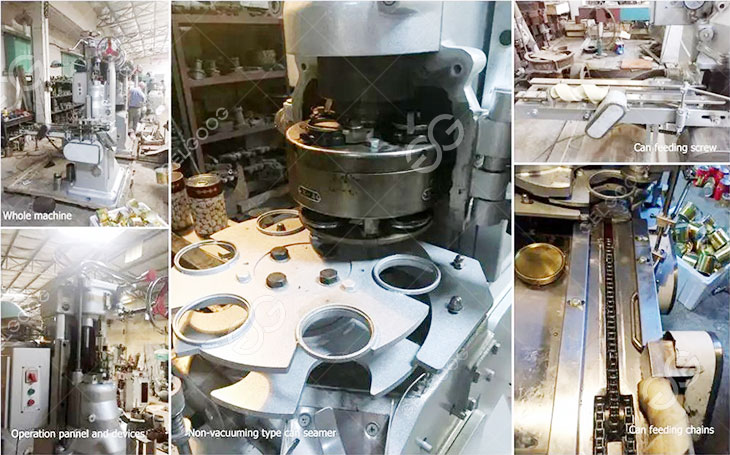 Features:
▼This machine is specially for round can automatic seaming(diameter 52-105mm).
▼It is automatic vacuum sealing machine. It is mainly used for vacuum,sealing or automatic spray cans sealing
▼The machine is with high cutting accuracy and good efficiency. It is easy and convenient to adjust the knives.
▼Six-fork turn plate, seaming chuck, seaming rollers all adopt high-alloy steel
After the tomato paste production line finished working ,we also have CIP system for this equipment.
It is mainly composed of acid tanks, alkali tanks, hot water tanks, and various pipelines. The centrifugal pump is used to transport the cleaning liquid for forced circulation in the material pipelines and equipment to achieve the cleaning purpose.
Therefore, there is no need to dismantle the pipeline equipment, which can increase the utilization rate of the equipment and reduce the labor intensity of workers.