Description
The cleated belt conveyors adopts a sheet-based rubber belt baffle as a carrier, which is suitable for the lifting and conveying of various materials in the food industry.
Features
The machine frame is made of all stainless steel materials, and can be made of various profiles according to user requirements, and can also be added with spray pipes and water collection tanks.
The machine uses a transmission motor to drive the sheet-base rubber to make a rotary motion, so it can conveyor and lift the material. It can realize both horizontal conveying and inclined lifting conveying.
The lifting angle during inclined conveying is generally not greater than 45°.
Cleated Belt Conveyors Advantages
The fruit and vegetable belt conveyors adopts foreign advanced technology for processing, and has the advantages of compact structure, low noise, convenient use, and convenient for open transportation and lifting.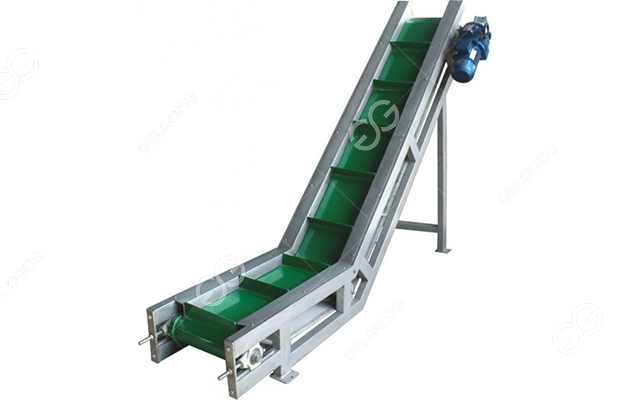 Working principle
The cleated belt conveyors contains a transmission motor, a frame, a driving shaft, a driven shaft, a film-based rubber conveyor belt and other components.
The film-based rubber conveyor belt is driven by a transmission motor to make a rotary motion.
After the material enters the conveyor belt, it moves with the conveyor belt to achieve the purpose of conveying and lifting.
Parameters
Effective width: 300-1200mm
Lifting angle: ≤38°
Single machine drive limit length: 1000-10000mm
Conveying speed: maximum 18m/min (adjustable)
Motor power: 0.18 Kw /0.37 Kw /0.55 Kw /0.75 Kw /1.1 Kw /1.5 Kw /2.2Kw
This cleated belt conveyors is essentail in any fully automatic juice or sauce processing line for the fruit and vegetable.