Description
The herbs washing machine is used to clean the fresh herbs picked from the mountains or the ground to remove the dust, sediment, bugs and pesticide residues on the herbs surface. It is suitable for cleaning various leaf herbs, such as mint, honeysuckle, moringa leaf, bamboo leaf, mugwort leaf, calamus, ginkgo leaf and so on.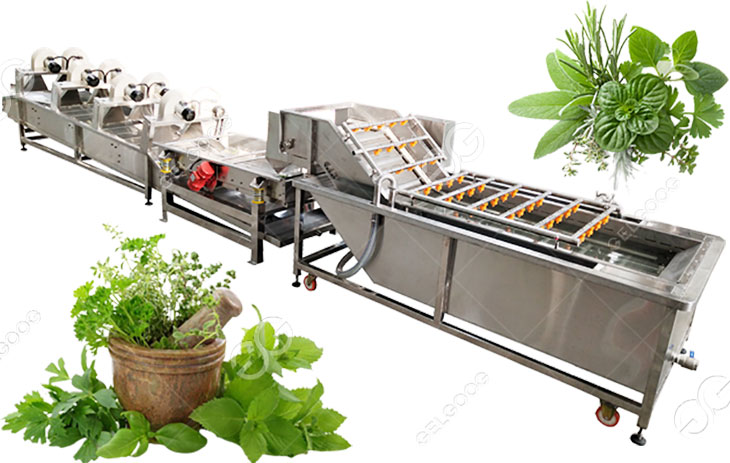 Herbal Washing Machine Working Flow:
After the lifting device, the herbal medicine falls into the water;
Use the water in the tank to stir and wash the Chinese herbal medicine;
Sediment, dust and other heavy dirt fall off into the sedimentation area;
The herbs is lifted out of the inner tank through the conveyor belt under the push of water;
After spray washing, the herbs is washed for the second time and enters the following process;
The washed insects, hair and other rinses are intercepted by the filter;
During the herbal washing cleaning process, the water inlet pipe and the spray water pipe are always supplied with water, so that the sewage in the water tank is gradually replaced.
Here is our herb washing machine youtube video for your reference:

Herbs Washing Machine Parameter
| | | | | |
| --- | --- | --- | --- | --- |
| Herbs washing machine | Power(KW) | Size(MM) | Weight(KG) | Mesh width(MM) |
| GGXQ3000 | 2.2/0.75/1.5 | 3100*1400*1500 | 500 | 600 |
| GGXQ4000 | 4/1.1/1.5 | 4100*1400*1500 | 700 | 800 |
| GGXQ5000 | 5.5/1.5/2.2 | 5100*1400*1500 | 900 | 800 |
| GGXQ6000 | 5.5/1.5/2.2 | 6100*1400*1500 | 1000 | 800 |
| GGXQ7000 | 5.5/1.5/3 | 7100*1400*1500 | 1200 | 800 |
| GGXQ8000 | 5.5/1.5/3 | 8100*1400*1500 | 1350 | 800 |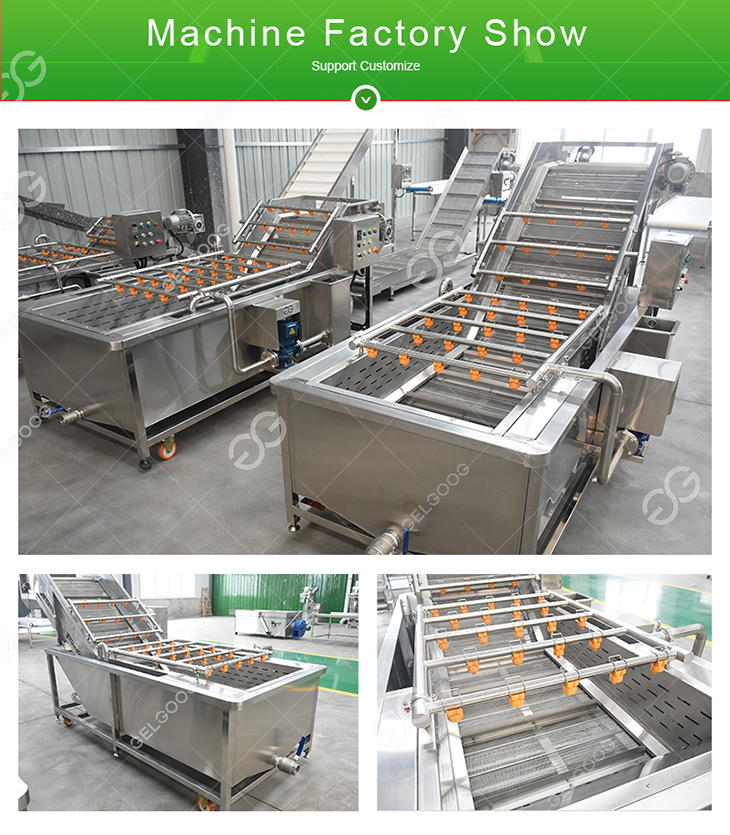 Industrial Herb Washing Machine Advantages
1. Cleaning: Under the dual action of air bubbles and spray, all-round and multi-angle cleaning;
2. Efficient water exchange: large drain valve, efficient discharge, convenient equipment cleaning and maintenance
3. Resource saving: The water circulation filtration system is both water-saving and environmentally friendly, which can save 80% of the cleaning water;
4. Wide range of application: suitable for cleaning and processing of various fruits and vegetables, and can also be customized according to user needs;
5. High efficiency: The conveying degree of the conveyor belt can be adjusted according to the needs of herbal processing and production, and the work efficiency is high;
6. The finished product has good effect: water flow conveying, bubble washing, protecting precious herbs from damage, effectively avoiding bumps and scratches in the process of artificial herbal cleaning;