Description
The green onion washing machine can spray up and down according to customer needs and place the materials on parallel mesh belts, breaking through the drawbacks of traditional cleaning machines. The cleaned fruits and vegetables are neat, beautiful, clean, do not damage the materials, have strong cleaning ability and less labor, which saves costs for enterprises.
Especially suitable for long vegetables and easily messed up vegetables, such as leeks, garlic leaves, onions, chrysanthemums, yams, etc., can also be used for fruit cleaning, such as apples, pears, cucumbers (fresh cucumbers have thorns on the surface, in order not to clean the thorns, Spray cleaning, whether it is distributed to supermarkets or wholesale, can ensure the freshness of cucumbers.
Features:
Using food-grade materials is safe, reliable and pollution-free.
The conveying is stable, and the material moves along with the conveyor belt to avoid damage to the material.
Low noise, suitable for occasions where the working environment requires relatively quiet.
The structure is simple and easy to maintain.
The energy consumption is small and the use cost is low.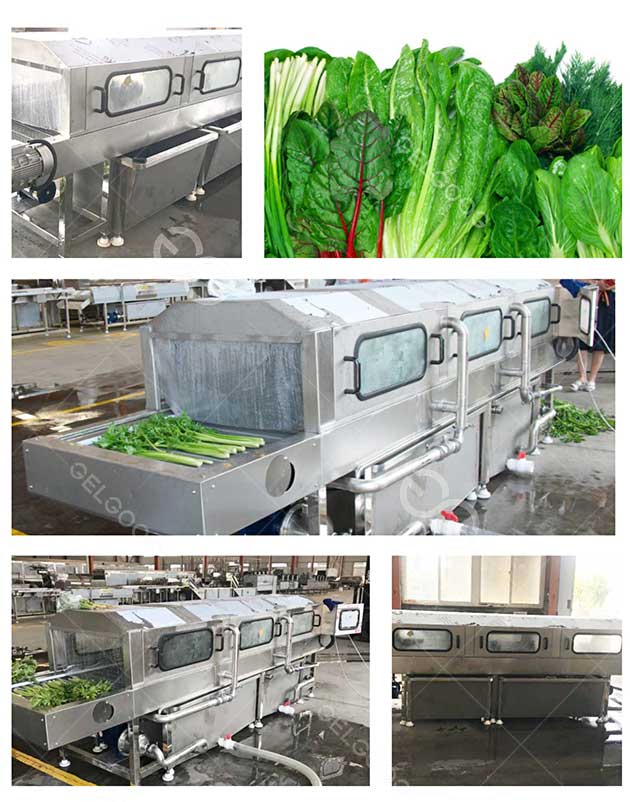 Working principle:
This green onion washing machine is made of SUS304 material, water is used as the medium, and the material is thoroughly cleaned by high-pressure spray.
While cleaning, spray pipes and nozzles are added to the upper part of the mesh belt, and the high-pressure water pump is used for circulating spraying, which effectively suppresses the floating of materials and material cleaning.
The nozzle is a detachable nozzle, which is easy to clean and prevent clogging. The nozzle angle can be adjusted to clean materials more effectively. The nozzle can be customized as three-way spray or one-way spray, about 15 nozzles per meter (10-30 can be customized).
The bottom water tank can be set as multiple circulating water tanks to achieve staged cleaning, and a heating function can be added. The outlet is equipped with a clean water spray to ensure that there is no residue after cleaning.
Green Onion Washing Machine Technical parameter:
Dimensions: 6000x1250x1450mm
Center distance of mesh belt: 1000mm
Power supply: 380V /50Hz
Cleaning time: adjustable
Operating speed: stepless speed regulation
Power: 15kw
We also have green onion root cutting machine to equipment with this machine to process the green onion.
Here is our youtube video of the leek wshing machine working process for your reference!!