Description
The chili hot sauce manufacturing equipment selects the mature and carefully cultivated red peppers in the farm, and after cleaning, handle removal, preheating, pulping, sterilizing and canning, we can get the rich flavor and bright color chili hot sauce. The hot chili sauce is served with fried chicken, grilled meat, burgers, hot dogs, pizza, French fries, seafood, pasta, salad, hot pot and other foods in the United States, Mexico, Thailand, Indonesia,South Africa and other countries.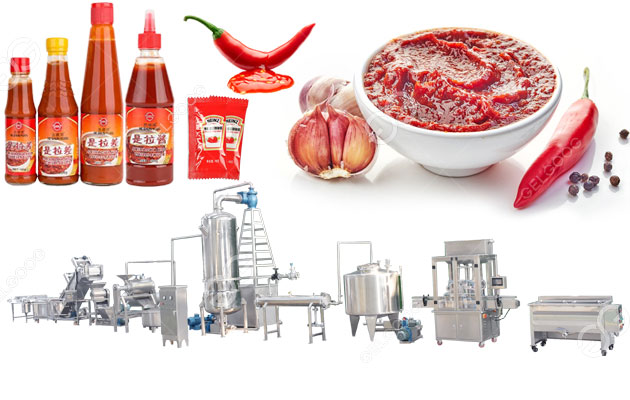 Chilli sauce processing: Fresh chili → material selection → handle removal, cleaning → crushing → preheating →pulping→ vacuum concentration → blending → filling → sterilization → cooling → inspection → finished product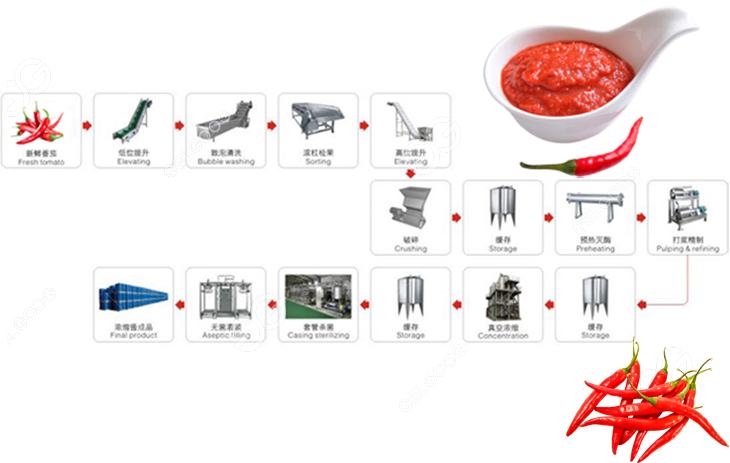 ①Material selection: According to the needs of different regions and different consumers, choose different varieties of pepper raw materials, and choose fresh peppers that are free of rot and insect pests.
Local pepper: thin skin, average meat quality (the meat is thin and crispy when bitten), spicy aroma, bright red color, and even pieces after being broken.
American red pepper: thick, smooth skin, full flesh, strong spicy flavor, but the pepper has a high oil content. The color is ruddy, the brightness is good, and there are lumps and consistency after being broken.
The line pepper is long, about 1 cm thick, with ruddy color, thin skin, full flesh, high fat content, strong spicy aroma, and even pieces after being broken.
Cauliflower: thick skin, thick flesh, light spicy taste, slightly sweet taste, red on the surface, but the coloring effect is not good, and it will be sticky after being broken.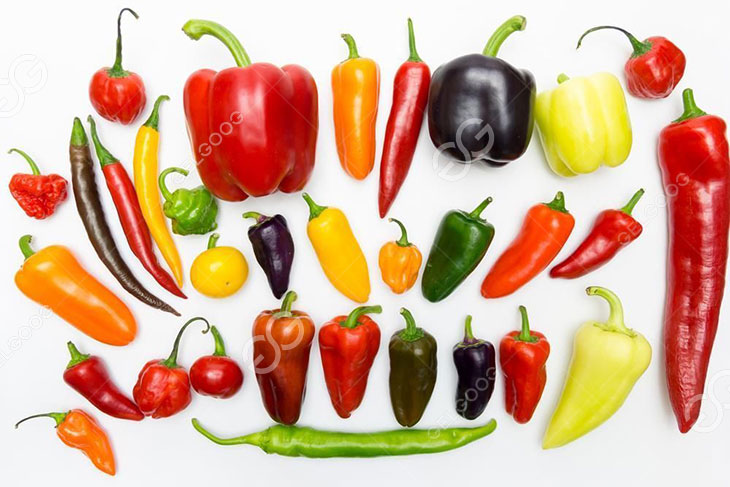 ②Remove the stalk and wash: remove the fruit stalk, so as not to affect the color of the finished product and cause too much crude fiber to affect the taste. And wash away the sediment on the surface of the pepper with water.
③Crushing: The crushing particle size is required to be below 3mm.
④Preheating: Heat the crushed chili paste to 85°C and keep it for 15 minutes to preheat and inactivate the enzyme.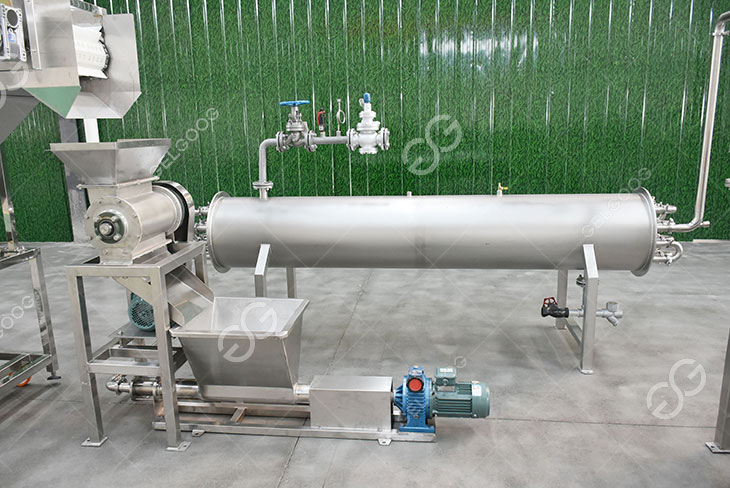 ⑤Vacuum concentration: Put the preheated chili paste in a vacuum concentration equipment for vacuum concentration. The vacuum degree is 650-700mmHg, and the temperature is controlled below 70C.
⑥ Blending: According to the requirements of hotness, sweetness, saltiness and acidity of chili sauce in various places, add appropriate amount of salt, citric acid and sweetener to the concentrated chili sauce.
⑦Canned and sterilized: hot-filled at 80- -85C. Keep at 100C for 15 minutes for sterilization.
⑧Cooling and inspection: After cooling, samples are kept at 37C for 7 days, and the cans are not damaged for inspection, which means they are qualified.
Chili sauce quality indicators
Chili sauce Sensory indicators
①Color: with the color of bright red pepper.
②Tissue morphology: the sauce body is delicate, uniform, and viscous.
③Taste: It has the flavor of chili sauce.
④ No pathogenic bacteria and spoilage caused by microorganisms, no impurities.
Chilis sauce physical and chemical indicators
①Soluble solid content: 11%-12%.
②NaCl content: 8%–8.5%.
③Heavy metal content (per kilogram of product): tin does not exceed 20mg, copper does not exceed 10mg, and lead does not exceed 2mg.
Chili sauce processing line parameter
Parameter

Equipment

Chili Washing Machine
Chili Sauce Making Machine
Airtight mixing and cooling tank
1000L sterilization Unit
Chili Sauce Packing Machine
Model
GGXQ5000
GG-180
GG-1000
GG-60C
Capacity
1T/h for tomato
800-1000Kg/h
1000L
1T per hour
Power/Voltage
5.5/1.5/2.2 Kw
18.5Kw
3kw/1.5kw
20Kw/380v
1KW/220V/380V
Weight
900 Kg
340Kg
Dimensions
5100*1400*1500 mm
830*490*1100mm
1600*1600*2200 (For one tank)
625*750*1550m
Fineness
100-200
Packing speed
25-60 bag / min
Hot sauce manufacturing equipment features
1. Customized chili sauce processing line can be provided according to the processing volume of customers;
2. The whole set of equipment is made of food-grade stainless steel to ensure the safety and sanitation of chili sauce production;
3. You can flexibly adjust the flavor according to your local chili sauce flavor and ensure the unique flavor of the chili sauce
If you also want to start the hot chili sauce business in your locally?Welcome to contact ue to get customize solution and 100% free quota!!