Description
Passion juice processing line, including passion fruit peeling and extracting machine, refined beating machine, homogenization, sterilization, filling and other whole line projects, high automation procedures, thereby saving labor costs and achieving high production efficiency.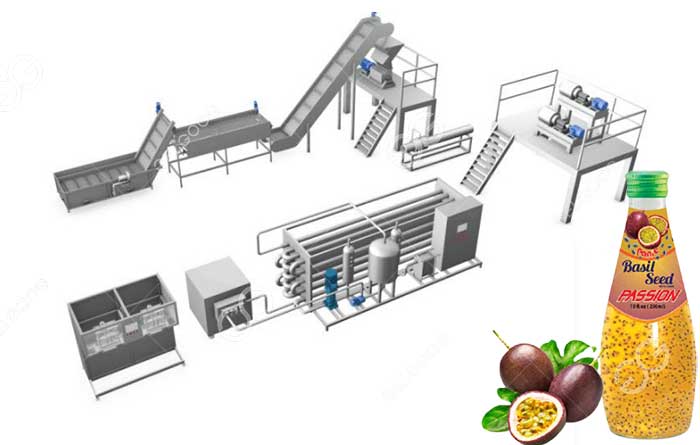 passion-juice-processing-line
Passion Fruit Juice Machine Technical Parameter
Fresh passion juice processing capacity is 3 tons/hour,
Daily processing 72 tons of raw fruit,
Effectively work 24 hours a day,
Passion fruit juice is packed in 1-30L sterile bags.
Passion Fruit Juice Processing Technology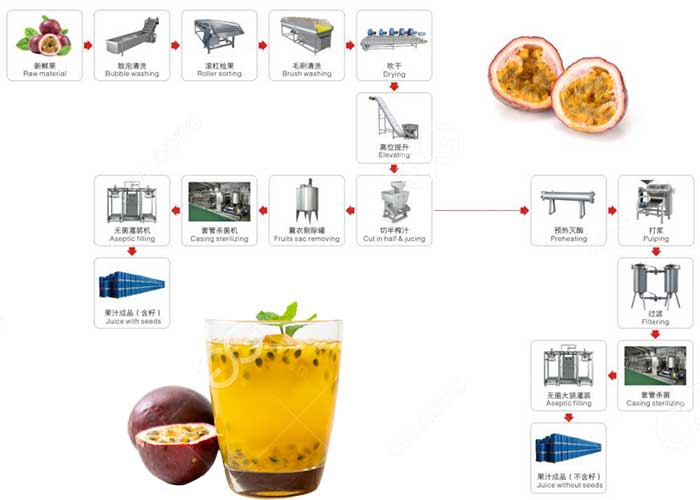 Cleaning→selection→grading→half-cut juice→refined beating→homogenization→sterilization→degassing→filling→finished product storage. Each process corresponds to a specific equipment, and the specific functions of the main equipment are as follows:
Cleaning machine: It is mainly divided into two cleaning processes, using bubble tumbling, brushing, high-pressure spraying and other technologies to clean materials to the greatest extent. Two-stage design, recycling energy-saving water, high cleaning efficiency, and no damage to the product skin.
Picking machine: stainless steel drum picking machine, conveying passion fruit as a whole, with rotation plus revolution.
Half-cut juice machine: After the passion fruit is fed into the machine through the high-level elevator, the whole white xiangguo is continuously and automatically cut into half through the bowl-pressing conveying mechanism, and the pulp is taken out through the inner scraping net, and can automatically Peel juice residue is separated.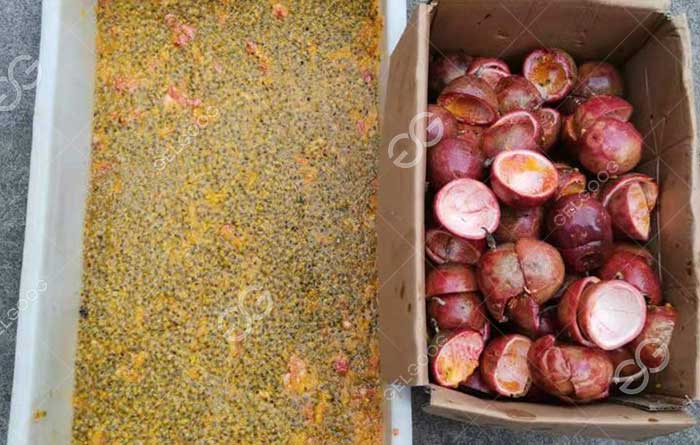 Double-channel refined beater: The double-channel refined beater is used to separate the seeds from the passion fruit puree and refine the puree more uniformly.
Sterilization machine: The casing type sterilization machine adopts a four-layer casing structure, which is specially used for sterilizing various materials with poor fluidity and high viscosity such as jam, passion fruit pulp, maltodextrin and so on.
Filling machine: Aseptic big bag filling machine is suitable for aseptic filling and filling of other viscous or non-viscous fluids such as 1-1000L fruit and vegetable juice, mango pulp or its concentrated products, dairy products.
Features of Passion Fruit Juice Making Machine
1. Compact structure and beautiful appearance;
2. Energy-saving design, low energy consumption;
3. Support customization;
Advantages of passion fruit juice production line:
1. High degree of automation, labor saving, with cleaning system, easy to clean.
2. The material contact parts of the system are all made of 304 stainless steel, which fully meets the requirements of food hygiene and safety.
3. The production line configuration is flexible, and equipment with different functions can be configured according to the needs of different final products of customers.
4. Passion fruit juice has high juice yield, bright color, and retains the unique flavor and nutrition of passion fruit.
5. A wide range of applications, not only for passion fruit, but also for the treatment of other similar fruits

Passion-juice-processling-line-in-factory
Profit of passion fruit processing equipment:
Passion fruit juice is used as a high-quality ingredient in a small number of products, used in many products, such as mixed fruit juices and tropical cocktails.
The peel of passion fruit also has many edible and medicinal values, such as clearing lungs, relieving pain, curing insomnia, etc. The passion fruit peel produced during the production process can be collected for stewing soup. After the passion fruit peel is dried, it can be used for tea.