Description
The passion fruit juice processing machine can extracting the passion fruit into juice beverages production.Our company bring into advanced technology at home and abroad, designed this line.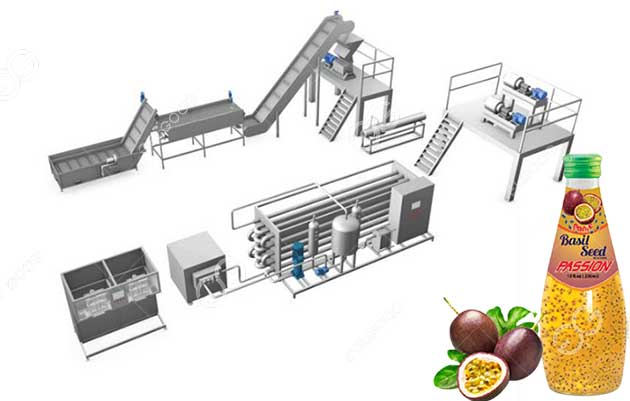 After the fresh fruit pre-processing,the main processing technology is to vacuum the fruit sacs and seeds,and the fruit sacs are beaten to obtain a thick puree and separate the seeds . After seeds comes out, we can use it make fruit powder and fruit oil. After broken the peel ,we can make fruit pulp juice by pulp making machine.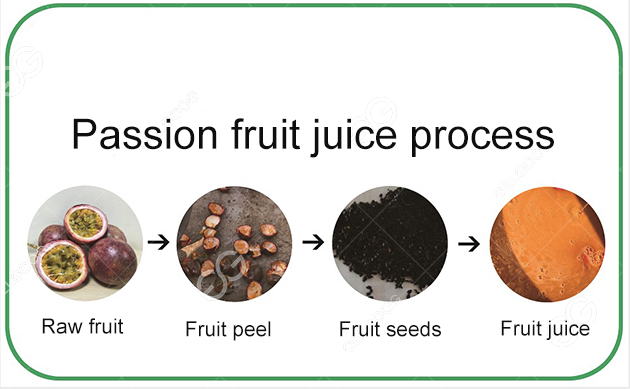 Passion fruit, also known as passion fruit, is rich in nutrients and has a strong and unique fragrance. It contains more than 160 fragrance substances.We can use the pulp,peel and seed make corresponding products with high utilization rate.
Passion Fruit Juice Processing Machine Process
Ripe passion fruit→cleaning→selection and transportation→peeling→beating→filtering→homogenization→enzyme inactivation→degassing→aseptic filling.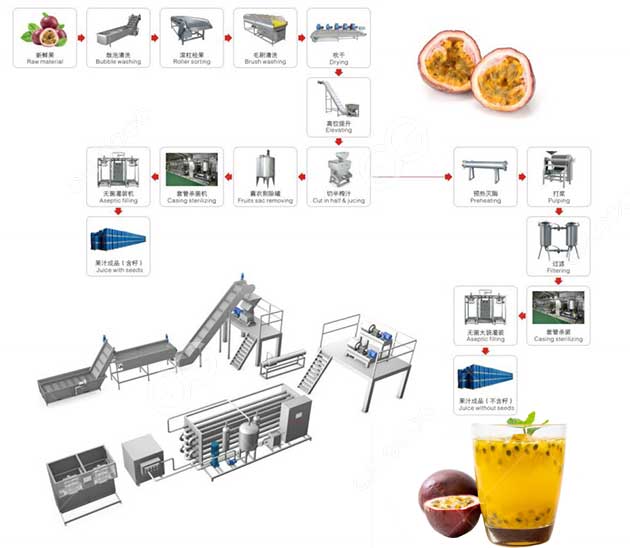 Passion fruit has "high vitamin C content" in the fruit. It belongs to the new aristocratic golden passion fruit. Because of its unique flavor and high nutritional value, it is very popular in consumers. Considerable economic benefits and low planting difficulty have inspired a large number of fruit farmers to devote themselves to this field.
A manufacturing method of a passion fruit juice beverage relates to a manufacturing method of a pulp fruit juice beverage, which includes: passion fruit pretreatment, crushing, juice separation, ultra-fine processing, ingredient, degassing, homogenization UHT sterilization, filling and other main processes:
First stage: mix the refined juice with a mixed stabilizer composed of pectin, xanthan gum, sodium carboxymethyl cellulose, and sodium alginate;
Second stage: mix the sugar solution with a percentage concentration of 10%-15% and the grade mixture at a ratio of 100:15-30 to prepare a passion fruit pulp juice solution in different proportions;
Here is our youtube video of passion juice processing line working process for your reference!
After degassing, two-stage homogenization, UHT sterilization, and hot filling at 80°C to 90°C, you can package and ship it according to conventional methods such as capping, coding, and bottle-inverting sterilization.The method of the invention has high extraction rate and utilization rate of the pulp, and the prepared pulp juice beverage has good flavor.