Description
The garlic paste processing line can process dried garlic into garlic paste to achieve the purpose of long-term preservation and convenient eating. It not only maintains the original nutrients and pharmacological effects of garlic, but also eliminates the smell of garlic, increases the unique garlic sauce fragrance, and extends the shelf life, which is loved by people.
150kg/H Garlic Paste Production Line Technical Parameters
1. Processing capacity: 150kg/h garlic processing
2. Raw material: dried garlic
3. Final product: garlic sauce
4. Specification: glass bottle packaging, 500ml
Garlic Paste Processing Line Flow chart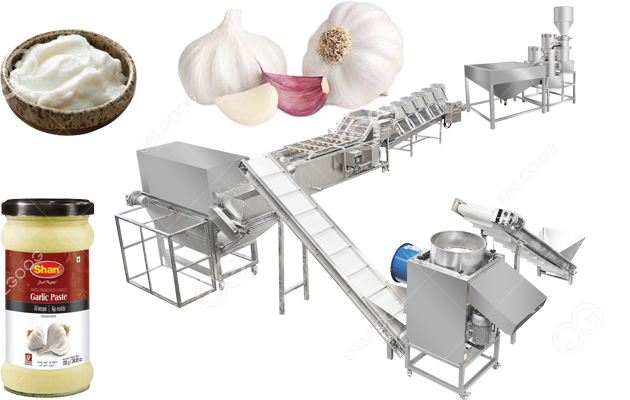 Dried garlic→ lifting→broken garlic cloves→lifting→garlic peeling→bubble cleaning→garlic paste grinding→storage→stirring(water, lemon juice, salt mixing, water pump, fuel tank) →sauce filling→capping→disinfection→paste Label→manually put into the tray→heat shrink packaging. Each process has corresponding garlic processing equipment:
Lifting equipment: Lift the whole garlic into the garlic crusher, made of SUS 304+PU;
Garlic clove breaking machine: divide the whole garlic into individual garlic cloves;
Garlic peeling machine: Use high-pressure wind to blow off the garlic peel;
Here is our garlic sperating peeling washing line working process in our factory for your reference!!
Garlic cleaning machine: cleaning the thin skin on the surface of garlic;
Garlic paste grinder: Grind the cleaned garlic into garlic paste;
Emulsification tank: The emulsification part can make garlic paste into a stable liquid. The mixed part can speed up the emulsification speed of garlic sauce and achieve better emulsification effect;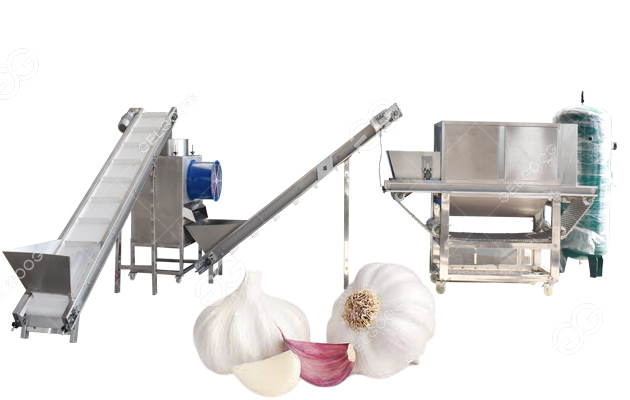 Pump: Through PLC control, the amount of garlic paste entering the mixing tank can be controlled and calculated;
Sauce filling machine: Fill garlic sauce into various containers;
Capping machine: Rotate the lid to achieve the purpose of sealing the glass bottle;
Sterilizer: used to sterilize glass jars in high-temperature pots.
Packaging film shrinking machine: Put the packaging film on the prepared glass jar and then shrink it.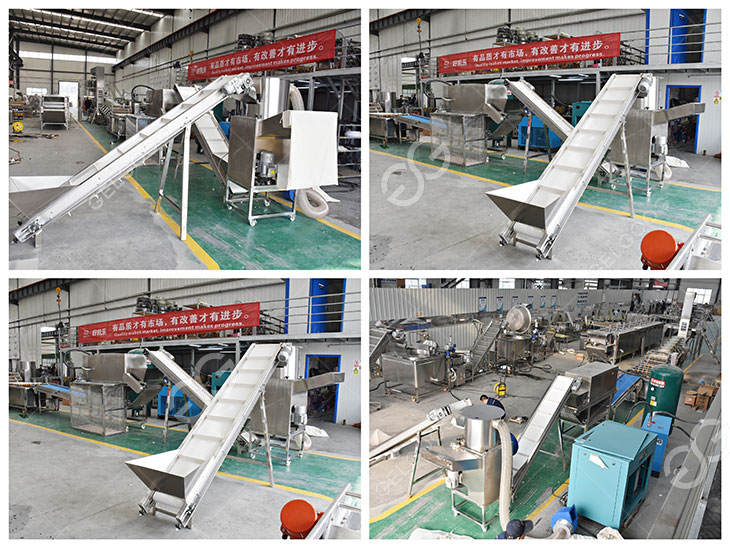 Garlic Paste Production Line Advantages:
1. Customized solutions. As a professional and experienced manufacturer, we provide tailor-made solutions for your garlic sauce business. We know that a proper route is the first step to success.
2. Food grade stainless steel material. The entire garlic paste production line is made of SUS 304 stainless steel to ensure the hygiene and safety of the garlic paste production process.
3. Fully automatic production line. Save you the manpower and material resources in the garlic sauce production process and save money.
4. Strong customer support. As a reliable manufacturer and supplier of garlic paste processing lines, we provide customers with a full range of services. If you have any questions about garlic paste making business, please feel free to contact us.