Description
The date palm paste production line is suitable for the 500kg/h Al Arab dates factory dried dates processing and the similar to date dried fruits processing. If it is fresh dates, it needs to be dried first. We can configure complete dates of different scales according to the specific needs of customers dates processing plant.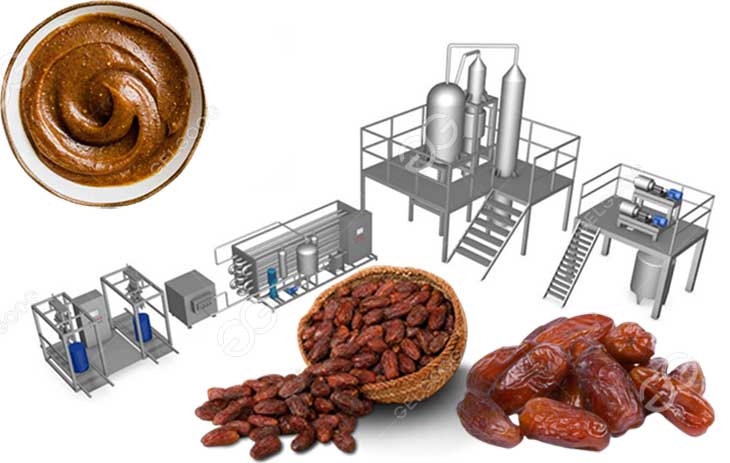 Date Palm Paste Production Flow Chart
The general dates paste processing process : raw materials → washing → picking → preheating → nucleating and beating → fine grinding → concentration and sterilization → filling. Each processing process has its corresponding date palm processing equipment.
Cleaning machine: Brush cleaning machine is used, and the wavy hair roller can clean the dirt on the surface of the date palm 360 degrees;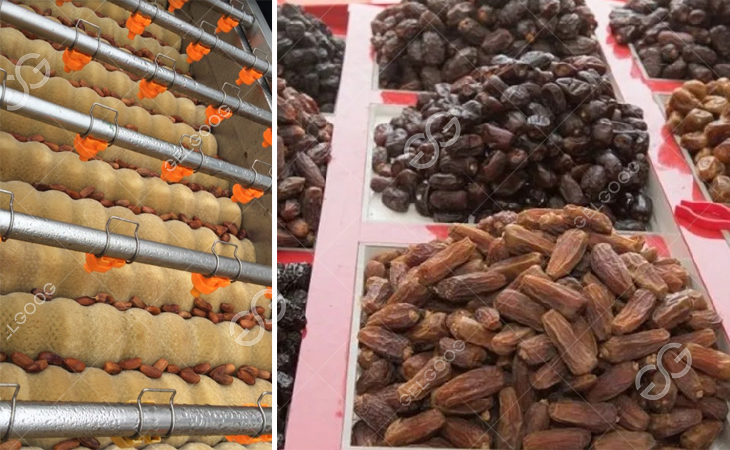 Picking belt: manual picking belt is used to pick out the moldy dates with bug eyes;
Jacketed pot: pre-heat the dates after cleaning and picking to prepare for the next process;
Date pulp making machine: This equipment can complete the function of de-nuclear beating at the same time, which is extremely cost-effective;
Colloid mill: After the initial beating, in order to improve the taste of the date palm paste, it is best to finely grind the date palm paste;
Jacketed pot: It can remove the excess water in the date palm paste and carry out high temperature sterilization, which is extremely cost-effective;
Filling machine: The 3-in-1 filling machine integrates bottle cleaning, filling and capping in one, with high efficiency.
Advantages of Date Processing Plant
1. The date processign plant is suitable for a wide variety of fruits, such as dates, olives, hawthorn and other fruits with similar characteristics.

2. Depending on the investment value and product structure, customers may need medium, intermediate or advanced dates processing plant.
3. The finished product date paste  has pure flavor, bright color and high material usage rate;
4. The whole date processing line has the features of high degree of automation, low labor intensity, easy operation, safe function and low operating cost.
5. The whole dates processing line adopts hygienic design, which can be thoroughly cleaned and has a high level of hygiene.
Why choose us:
1. We specialize in designing general contracting projects for date fruit processing lines, and we provide you with experienced engineers design general contracting project suggestions.
2. In addition to filling machines and downstream packaging machines, we are professionals dates processing plant manufacturers. For filling machines and downstream packaging machines, we have partners who can cooperate with you.
3. We can send engineers to your factory site to guide you in installation and commissioning.